Drill square sided mortises with this Bench top Mortising Machine
Rigid cast iron construction and a rack and pinion head control mechanism slides on a dovetailed column with adjustable ways to ensure precision mort
A pneumatic return strut eases the step and repeat cycle of multiple drilling

G0645 Mortising Machine Specification:
Motor type: Induction motor 220V / 50Hz
Motor Power: 550W
Spindle speed: 1450 RPM
Maximum distance column to chisel: 102MM
Chisel to Baffle Maximum clamping width: 127MM
Mortising maximum clamping capacity: 10MM
Mortising sleeve hole diameter: 15.875MM / 19.05MM
Standard chisel specifications: one piece 9.5MM chisel
Machine size: 410x480x800MM
Package Size: 580x480x440MM
Net weight / gross weight: 31.5 / 34KG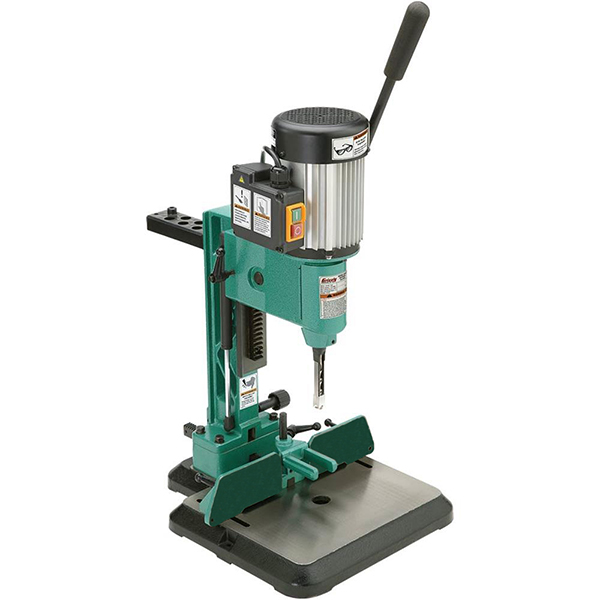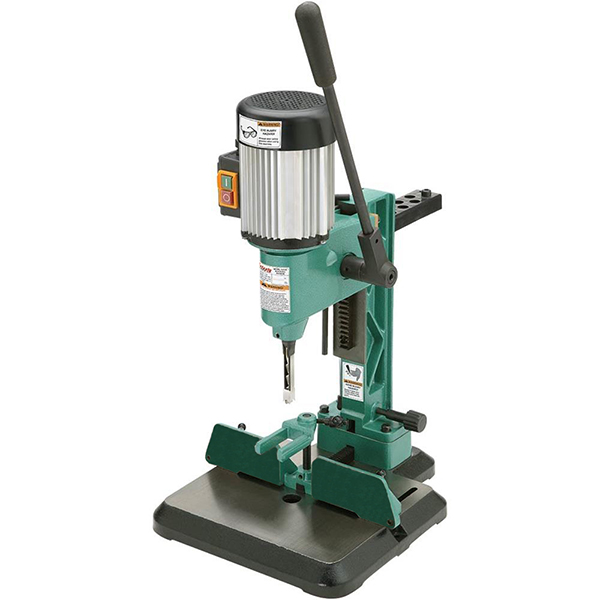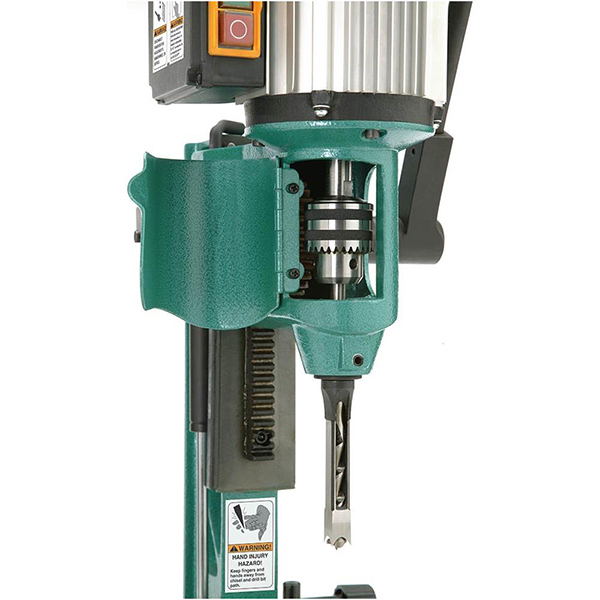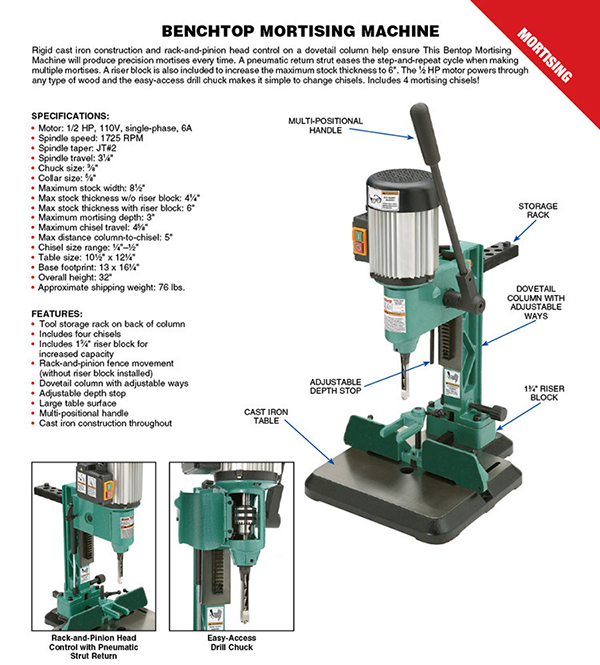 W1671 Mortising Machine Specification:
Motor type: Induction motor 220V / 50Hz
Motor Power: 750W
Spindle speed: 2850 RPM
Maximum distance column to chisel: 100MM
Chisel to Baffle Maximum clamping width: 127MM
Maximum compression thickness: 152MM
Workbench size: 406X150MM
Baffle size: 406X60MM
Drill maximum clamping capacity: 12.7MM
Drill sleeve hole diameter: 15.875MM / 19.05MM
Standard chisel specifications: one piece 12.7MM chisel
Nose rotation 360 degree horizontal rotation
Machine size: 410X410X800MM
Machine package size: 660X480X330MM
Base package size: 415X335X150MM
Machine net weight / gross weight: 30 / 31KG
Base net weight / gross weight: 9 / 10KG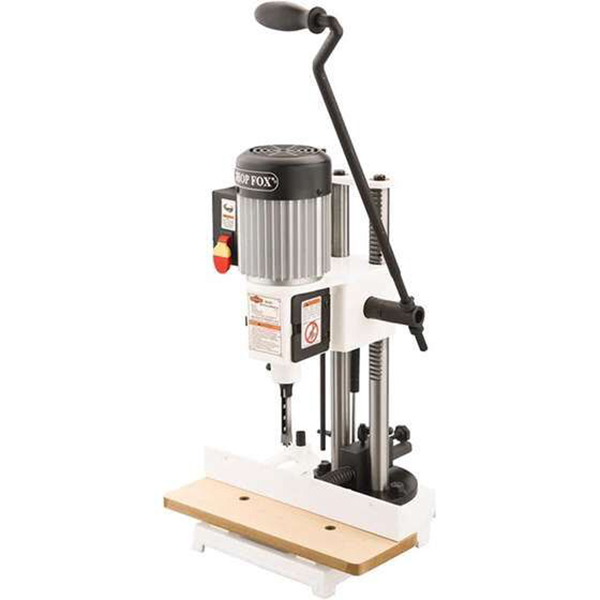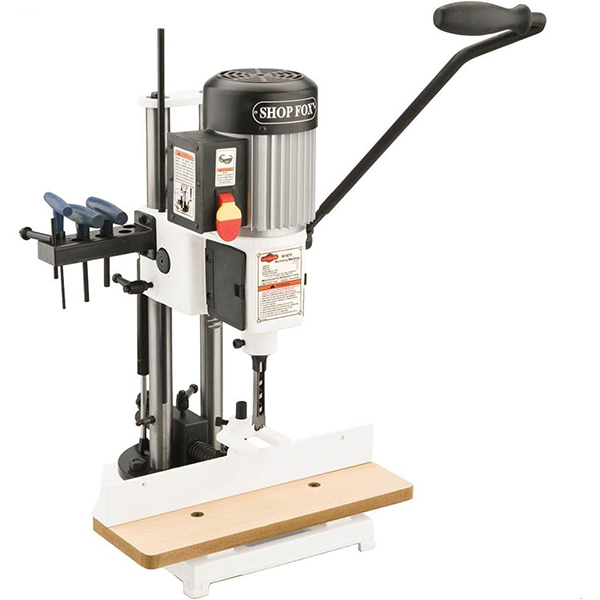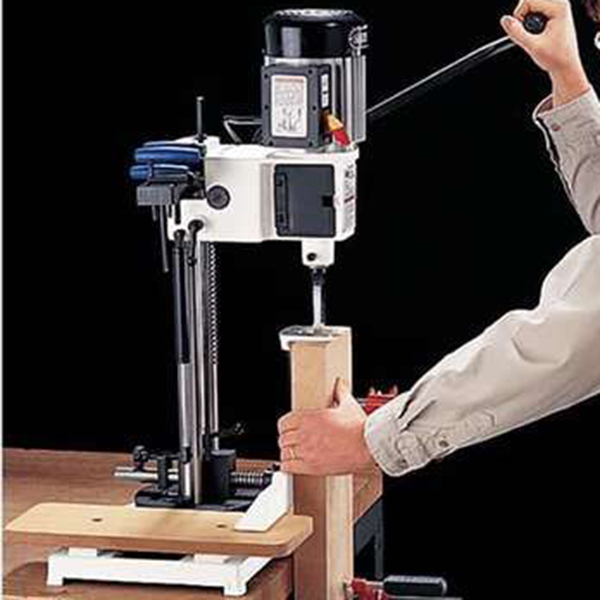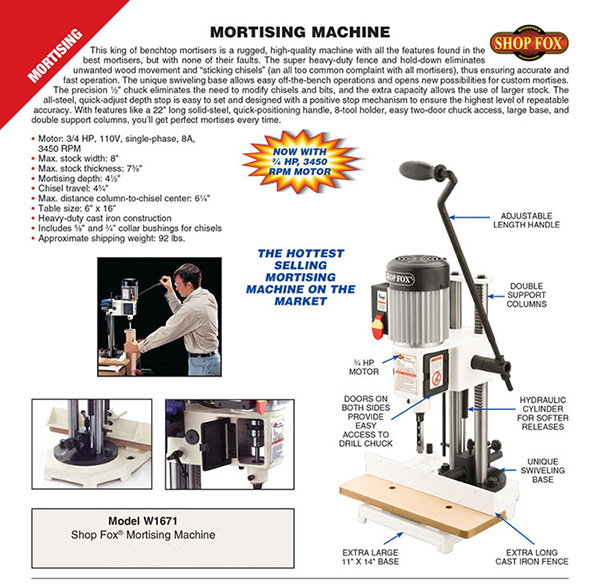 H1600 Mortising Machine Specification:
Motor type: Induction motor 220V / 50Hz
Motor Power: 1000W
Spindle speed: 1450 RPM
Workbench size: 508X203MM
Baffle size: 508X92MM
Baffle plate maximum moving distance: 76MM
Drill maximum clamping capacity: 12.7MM
Drill sleeve hole diameter: 15.875MM / 19.05MM
Standard chisel specifications: one piece 9.5MM chisel
Machine size: 510X380X880MM
Package Size: 565X460X755MM
Net weight / gross weight: 68 / 71KG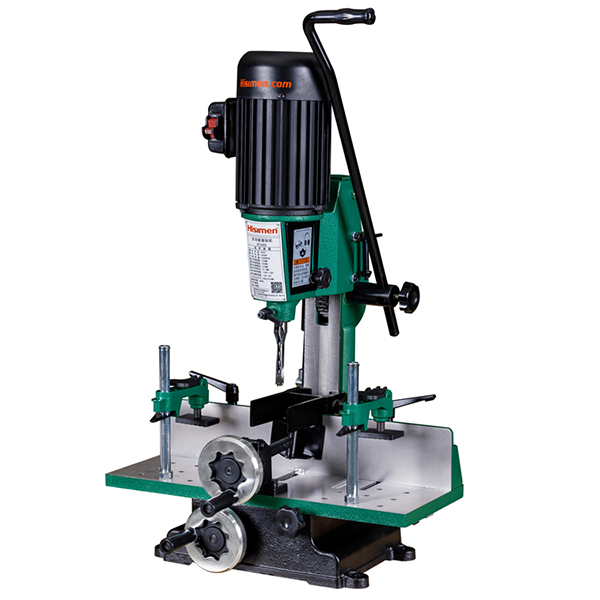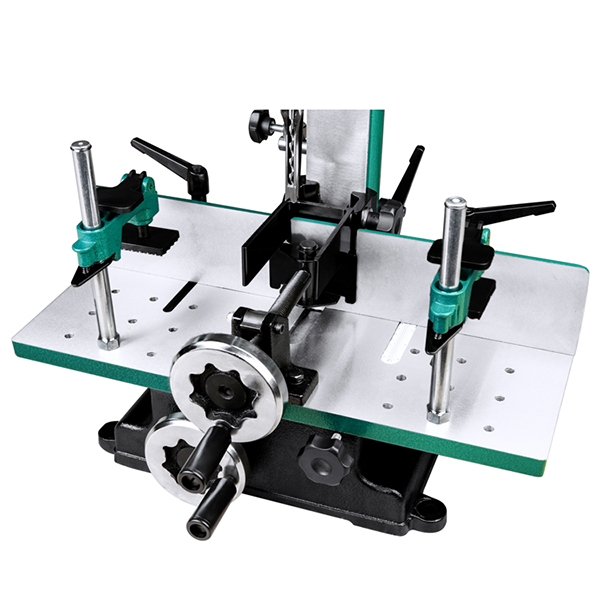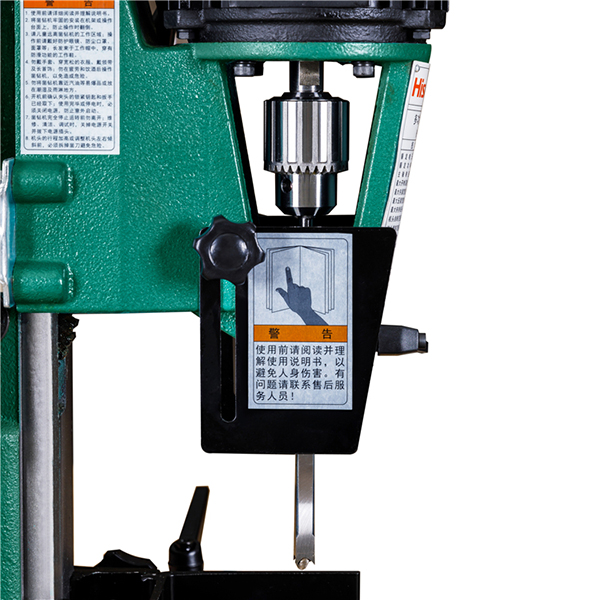 H8237 Mortising Chisel Set 4pcs Specification:
This set can be used on H1600, W1671.
Cut 10mm handing part when used on G0645
Outer Diameter: 19mm
Inner Diameter: 4.5mm 5.76mm 6.76mm 9.75mm
Length of the top: 6.35mm 7.9mm 9.5mm 12.7mm
Replace those dull and worn out mortising chisels. These Mortising Chisels fit all mortising attachments with 3/4" collars.
Each chisel is sharpened and ready to use and includes 1/4", 5/16", 3/8" and 1/2" square chisels and a protective molded case.