High performance servo with BLDC Motor
Models: YC272A1B, YC272A2B and YC272A3B
FEATURES:
– Suitable for RC cars 1/10 scale on/off road and 1/8 scale on/off road.
– Programmable High Voltage Brushless Servo.
– High torque Brushless DC Motor.
– Upper/middle/bottom: Aluminum Case
– Stainless Steel Gears
Unique Features:
1. The step angle of the gear set is 0.2 degree while the industry standard is 0.5 degree. It can maintain more than 100,000 operating cycles.
2. The material is made of stainless steel thickened and quenched.
3. The BLS Servo adpots brushless motor which can support 11.1V high-voltage 3S battery power supply directly.
4. Two high bearings are commonly known as 2BB. The industry standard uses 2.5mm.
5. The grease and adhesive are made of the same material as Futaba. The industry uses lithium-based grease butter and AB glue.
6. Full waterproof structure design, rubber ring, sealant, three-proof paint used for the drvier. IPX8 waterproof HV Servo.
7. Programmable controller, startup speed adjustable according to customer requirements, Over heating and current protection.


SPEED:
YC272A1B 0.0135 sec/60° at 6.0V, 0.12 sec/60° at 7.4V
YC272A2B 0.0113 sec/60° at 6.0V, 0.095 sec/60° at 7.4V
YC272A3B 0.0096 sec/60° at 6.0V, 0.081 sec/60° at 7.4V
TORQUE:
YC272A1B 36.0 kgf.cm at 6.0V, 42.0 kgf.cm at 7.4V
YC272A2B 33.5 kgf.cm at 6.0V, 38.0 kgf.cm at 7.4V
YC272A3B 26.0 kgf.cm at 6.0V, 30.5 kgf.cm at 7.4V
SIZE:
40.0*20*39mm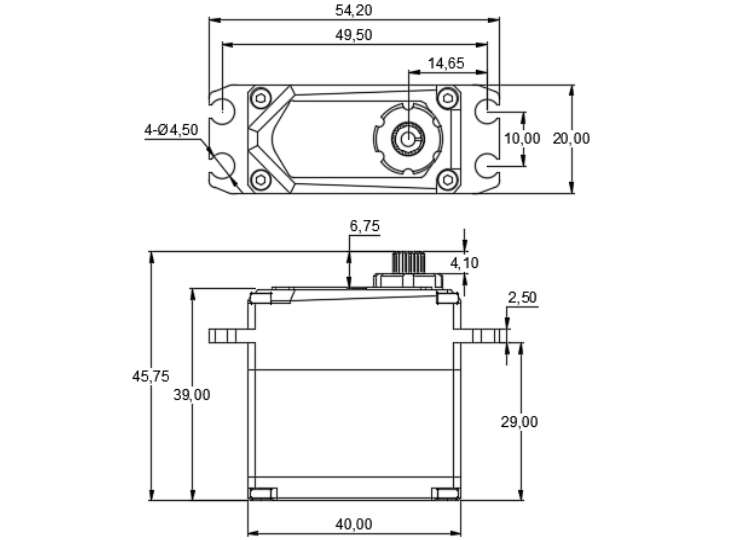 WEIGHT: 90 grams
OPERATING VOLTAGE: DC 5-8.4V

Welcome your review on the torque and performance compared with FUTABA HPS-CB700 SERVO.