S2M Pulley
The price marked are in USD per piece, 20 teeth 5mm bore S2M Pulley for 5-7mm S2M Belt.
We only accept Machining Service for this S2M PUlley and all kinds of S2M, S3M or S5M pulleys. The Minium Order Quantity is 100pcs, the lead time is 12-18 days.
S2M Belt
RobotDigg can supply you with S2M belt, 6mm width, 6.35mm width or 9mm width open ended, MOQ 10 meters. You could write us sales@robotdigg.com for more.
S2M is Japan standard. Misumi a japan company sell s2m tooth profile worldwide. Somebody says that s2m is Round Tooth Profile, but in fact s2m is not real round. Personal opion is that s2m is mixup of round tooth profile with T tooth profile. It's like a herbivore animal tooth.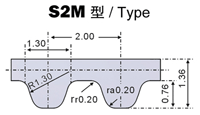 Some of the makers are discussing the difference between gt2 tooth profile with s2m tooth profile. It's really interesting question. GT2 Tooth Profile is after the name of Gates, it's a real Round Tooth Profile. If you insist to get an answer, our answer is that s2m tooth profile and gt2 tooth profile is standard difference similar JIS and SAE, a Round Tooth Profile.