Non-captive Linear Stepper Motor
17HS3001-T84 in stock.
Rated Current: 1.67A
Holding Torque 0.4N.m
Leadscrew: Tr8*4 300mm long.
You may use it in your new design of 3d printers or other desktop machines.
3D printer z-axis innovation wait for your creation.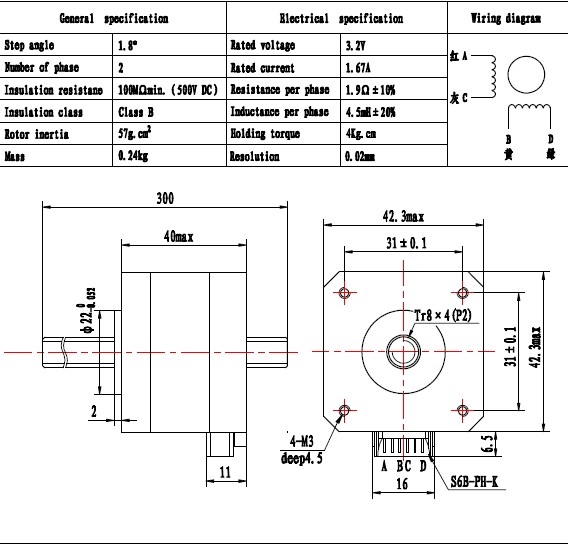 RobotDigg can produce you Nema8, Nema11, Nema14, Nema17 and Nema23 Non-captive Linear Stepper Motor Actuators;
Leadscrew diameter from 3.5mm to 11mm;
NEMA17 4 Wires, 1.5A, 34mm depth Precision Hollow Shaft Stepper
Diameter A5.54, A6.35 or Tr8
Resolution: 0.0015mm, 0.0060mm, 0.0243mm, 0.00198mm,0.0039mm,0.0158mm and 0.04mm after microstepping
Tr8*4 lead screw and a 1.8 degree stepper motor 200 steps per revolution, the resolution is 0.02mm
A stepper driver 16th micro-stepping to drive, then the resolution will be 0.00125mm
The leadscrew will move in and out of the nema17 stepper motor.
New arrival: Non-captive 17HS1070150T635 linear stepper motor
NEMA17 34mm stepper motor
150mm long Tr6.35*1.5875 lead screw