Desktop Pick and Place Machine CHMT48V SMT Full Automatic Machine
Paypal Buy Now, shipping cost included by FedEx, DHL, UPS or TNT to Australia, East Asian Countries, Canada, USA, United Kingdom or Western European
CHMT48VA Paypal Buy Now

This Desktop Pick and Place Machine works very stably with chips inlcuding: 0402,0603,0805,1206,1210,3528,5050, SO-16,SOT-23,SOT-89,TO-252,SOP,QFN, LQFP....different kinds of IC (max size 22*22mm)

220V/110V Available.
Model

CHMT48V

PCB area

10mm×10mm~380mm×415mm

X,Y axis stroke

420×460mm

Z axis stroke

15mm

number of nozzle

2

material stack number

8mm=22 Stack; 12mm=4 Stack; 16mm=2 Stack; 24mm=1 Stack; Front IC=12 Stack User-defined IC Tray=20 Stack

visual support

dual cameras

mount speed

do not use the visual: 6000 cph (maximum 7200 cph);

use visual: 4000 cph;

Note: cph is chip per hour

SMT precision

±0.025mm

support footprint

0402~5050,SOP,QFN

tape width:8mm,12mm,16mm

machine size

L 960mm×W 705mm×H 335mm

vacuum pump

-92KPa

number of pump

2

need external air pump

no(built-in mute air pump)

need external PC

no

power supply

220V(110V), 50Hz

power

250W

weight

75Kg

volume of packaging

0.51m­­3
Description:
CHMT48VA Vision System Specially Design with Vision Based Pick & Place to achieve more accuracy and ensure for correct Placements on Large Size of PCB/SMT/LED from Small to Max Size of Components and PCB Size.
1. Top Vision Camera to Identify PCB and Types of Components, Optimised Data with Programs File
2. Bottom Camera Check each components before placements, it can check correct types of components, correct angle, correct direction, flip components and wrong pick Up, Missedcomponents.
3. Vision system sending inspected data and feedback to Programming processor, Programming Processor give optimised command to machine get the correct and 100% ensured Placements.
4. Two Mounting Heads Provide high Throughput on High Mix Products .

Features:
1. Placements Accuracy ±0.025mm for SMT/LED Components
2. Correct teaching of PCB Origin, Components Locations identifications and Nozzles Centring
3. On the Head Vacuum Detection system to detect components
4. High Quality & Spring Loaded Pick Up Nozzles to get the pickup Flexibility of sensitive components
5. Integrated Components Reel Rack Slots and Holder
6. Max PCB Size: 350mm x 350mm
7. Lowest PCB Size: 10mm x 10mm
8. 20mm Components Height give flexibility for placements all types of components
9. Components Handling Capacity from 0402 to 0603, 0805, 1206, 1210, 1812, 2010, 2512, 3216, DO-214, SOT23, SOT-89
10. Chip Tantalum Capacitors C-form(6032), D-form(7343) etc. package components11
12. High Placements Speed up to 7200 Components/Hour
1314. Placements Angle from 0-360Deg Cent
15. Removable 8GB Memory Card for Back of Programs and Interface with Laptop or Desktop Computer
16. Fully Touch Screen Operational Panel for easy Operation

Competitive Advantage:
1. Convenient system, Embedded Linux System of the machine, very stable and fast speed, independent operation, no need external computer, operation more easy and convenient.
2. Industry touch screen, more stable, quality higher. It can connect a external USB mouse on the usb port to operate the machine like a computer.
3. Top and bottom two cameras correct the position of each components very accurate, especially for IC.
4. It has flexible PCB clamping fixture, user-defined from stack NO.80. convenient and quick.
5. The vision also can second correction machine origin point, make sure origin point correct.
6. With two nozzles placing heads, high precise Juki Nozzles with magnet, no need to disassemble with wrench. 2 nozzles arbitrary rotation angle -180 degree~ +180 degree. Placing height can adjustable, accuracy of 0.1 mm.
7. Pull pin automatically return to avoid nozzles broken, pull pin not be stuck, big progress.
8. Z axis detection, placement head can auto back to origin.
9. Updated stepper motor, never loose steps.
7. PCB by two visual calibration, first and last componet, amend the offset of PCB.
8. Calibration can be rapidly and accurately for PCB, do not need to care about offset, no need to calculate the input.
9. Comes vacuum testing, with automatic feeding; if one component suck crooked, it will automatically throw it to the feed zone, then pick a new one to mount again.
10. If lack material it will automatic detection, then alarm; after supply the material then continue working, no need to re-start.
11. Support any number of PCB batch.
12. If no PCB file, or don't use protell software, you can creat a new file to program. Support single step.

Why choose Charmhigh?
1.Light weight body,occupy small area
2.User friendly interface,no need professional SMT engineer,entry-level device
3.High integrated,no need extra pump or any supporting facility
4.High accuracy and reliability,make up the defection of manual work
5.Low cost,reduce expense to own a professional automatic SMT production line
6.International express with door to door service,3-5 working days delivery
7.Especial for laboratory research and development,samples,to avoid any patents and designs revealment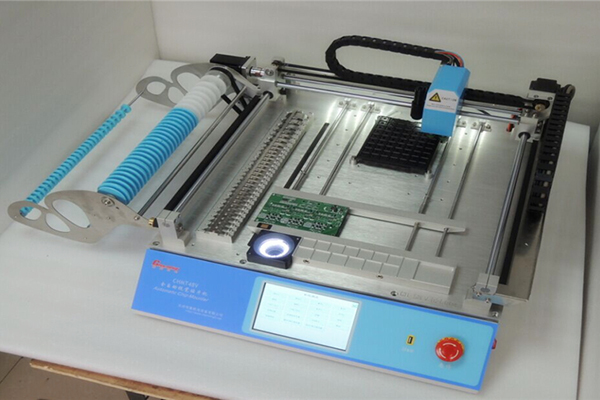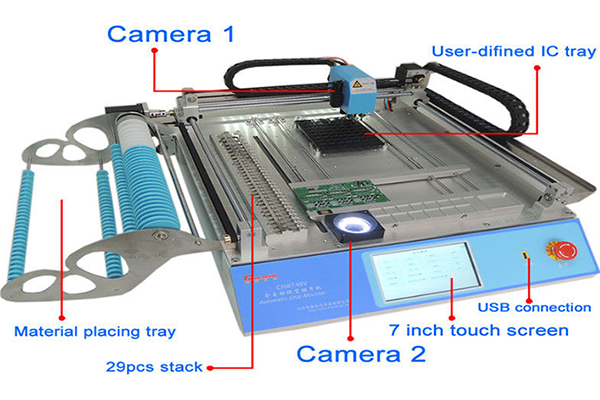 Recommended Mass Production Line
High Precision Printer+Desktop Pick and Place Machine+Channel reflow oven