Particulate Filtration Efficiency Tester
Quick start User Manual
The Mask Particulate Filtration Efficiency Tester is used for testing the filtration efficiency of daily protective masks, medical masks and melt-blown materials on particulate matter, as well as measuring the obstruction performance of common fabrics and medical protective masks on airflow with constant flow rate.
It is suitable for the medical device inspection center, safety protection inspection center, labor protection inspection center, drug inspection center, prevention and control center, textile testing center, hospital, mask manufacturing enterprises, etc.
Testing Principle
Its design and manufacturing according to the standards of YY 0469-2004and GB 2626-2006 , at the same time, it also refers to the international advanced design concept of similar equipment (such as the United States TSI company), based on the European standard En 1822-3:1998 single filter material test principle, but it is also suitable for the test status of the domestic relevant industry.
Items Technical Parameters
Filter efficiency detection Range 30-99.999%
Filter efficiency detecting flowmeter range (15-100) L/min, the precision of 2.5 level
Filter efficiency particulate concentration (20-30)mg/m3
Testing Area 100cm²
Measuring pressure differential range 0-500Pa
Aerosol Type (Dust Source) sodium salt(2% NaCl solution) or Oily particles (DOP,DEHS,paroline,corn oil)
Counting median diameter(Optional) Salt particles(0.075±0.02)μm
Oil particles(0.185±0.02)μm
Counter Sampling flow 2.83L/min±5%
Counter measurement channel 0.3um, 0.5um, 1.0um, 3.0um, 5.0um, 10.0um
The geometric standard deviation of particle size distribution
Salt particles≤1.86, oil particles≤1.60
Power supply AC 220V,50HZ
Dimension 8506801450mm(change based on configuration)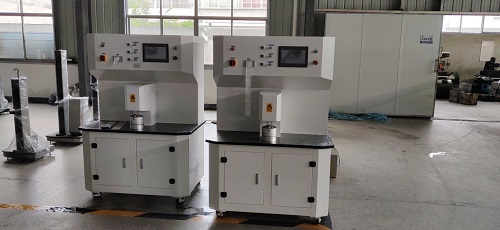 Product Feature: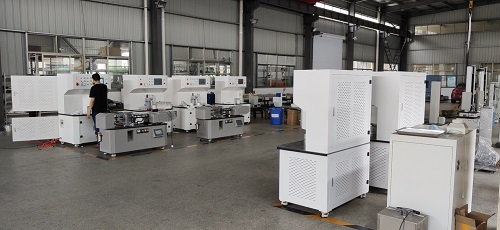 1.It adopts cold generation aerosol generator to produce continuous and stable aerosol particles, which is convenient for filling solutions.
2.It adopts high precision PM 2.5 sensor from Japan to measure aerosol concentration.
3.The whole process of particle leakage prevention design, to protect the safety of the experimenters.
4.Two sets of aerosol generators: salt particulate aerosol generator and oily particulate aerosol generator.
5.Equipped with a static neutralization device for aerosol particles.
6.Pneumatic fixture, easy to load and change samples, and equipped with protection device, safe and convenient to use.
7.Equipped with industrial level temperature and humidity sensor, real-time display of ambient temperature and humidity (temperature and humidity requirements: 25℃±5, 30%RH±10%RH)
8.Equipped with glass rotameter, vacuum pump, laser dust particle counter.
9.Control system: Omron 10-inch touch screen form Japan, equipped with Omron acquisition controller and special testing software. The computer automatically tests the gas concentration and automatically calculates the filter efficiency. It can save, output, inquire, print test date.