Desktop Pick and Place Machine
Suitable for mounting most of the SMD components, such as 0402 0603 0805 1206 1210 3528 5050 SOP QFN, etc.
Drawer type computer and driver integrated, could pull out lightly, convenient for later maintenance.
Disassembled chassis, easy to handling.
HD industrial camera, precisely identify 0402, 15*15mm and other electronic chips.
Intelligent remounting design, when pick materials failed, software will instruct to continue mounting no-stop, record and unify remounting. It could improve the mounting efficiety.
Component auxiliary box design, make components programming and position revising more precisely.
Software is easy to understand and use, free upgrade permanently.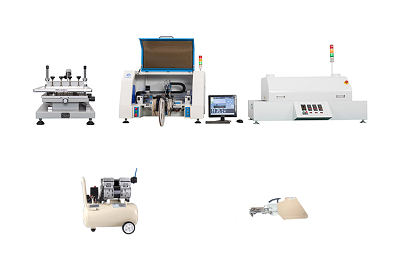 Product Parameters:Model KAYO-D2V
Max Circuit Board Area I 295x420mm
XY Max Movement Range_ 530x550mmz
Axis Max Movement Range 20mm
Max Mounting Speed I 6000 cph
Avarage Mounting Speed I 5000 cph
Positioning Accuracy_ 0.01mm
Nozzle Buffering Range 8mm
Power Supply_ AC220V, 50Hz
Compressed Air 0.5~0.7Mpa
Avarage Power_ 300W
Support Feeding Method Belt type feeder, tube feeding, tray Ic
Applicable Components: 0402, 0603, 0808 1206, diodes, transistors, SoT, QFM (9x9mm), etc.Feeder No. 25
Motor stepper Motor
Mounting Head 2 Heads
Motion Driving System High speed digital high pressure driver
Component Angle_ 0~360*. synchronized rotation in motion
Programming Mode Point-to-point programming. visual programming, etc. Bult-in PC, automatically recognize, correct andVision Operating System I remount X/Y Running Mode A new generation of linear interpolation linkageAir Source Reversal positive and negative pressure switchOperating Software KAYO-D2V-25S Visual Programming Camera Ultra high pixel color infrared
Visual Display_ 15 Color HD display
Weight 168KGS
Dimensions 1045mm*850mm*650mm