High-throughput Semi-Automated pipetting station
Available in 20μL, 200μL, 1000μL three ranges Pipette Tips
RobotDigg SC9100 Semi-automatic Pipetting Station Operation Manual
Fully Automatic Pipetting Workstation SC9200
Fully Automatic Pipetting Workstation SC9200 Instruction Manual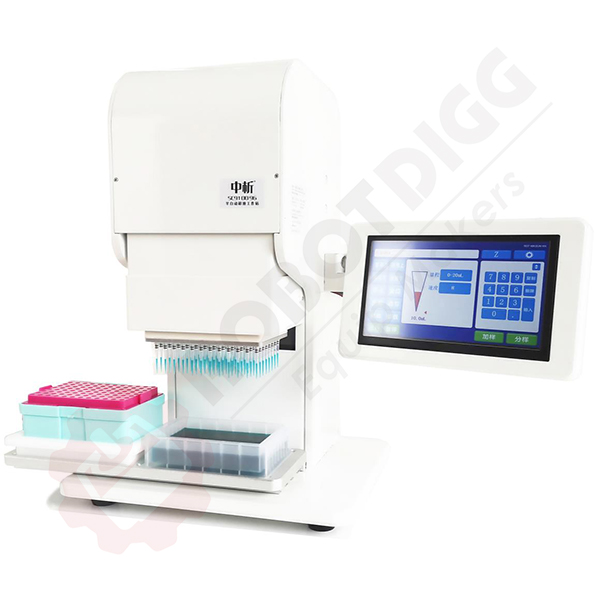 SEMI-AUTOMATIC HIGH-THROUGHPUT PIPETTING SOLUTIONS — NEW PIPETTING OPTION
SC9100 is designed to improve the throughput and capability of the laboratory.
The automatic pipetting solution of 96/384 Well Plate, can make pipetting easier and with a shorter time.
It can achieve one-stop pipetting on 96 well plate, and can better handle 384 Well Plate and significantly improve sample handling speed and repeatability.

The unique design concept makes the user feel as convenient and economical as using a traditional handheld pipette.
SC9100 is widely used for template duplication, cell culture, analysis and detection, transferring, duplicating and reorganizing between 96-well plate and 384-well plate, orifice cleaning, dilution, and biochemical detection based on orifice plates, PCR/qPCR, protein crystallization and ELISA/EIA cell vaccination, etc.



* More Accurate Liquid Handling to Improve Data Quality
* Faster Workflow for Faster Experimental Efficiency
* Improved User Experience with A more Streamlined Operating System
* More Flexible Lab Assistants, Compatible with More Applications
* More Compact Design to Be Used In Different Working Environment
* More Scientific Manufacturing Processes to Reduce the Operation Cost

MORE ACCURATE LIQUID HANDLING TO IMPROVE DATA QUALITY
More accurate pipetting, independent pipette head channel, and multi-seal design ensure no interference with each other and prevent uneven pipetting or sample leakage.
Reliable sealing and durability are key to high repetition and error-free pipetting, so it minimizes pipetting errors.

With an advanced PRCX head installation system, the head will be firmly locked in the pipette head without external assistance.
The head won't accidentally fall off, even when you use the gun and put your head against the wall.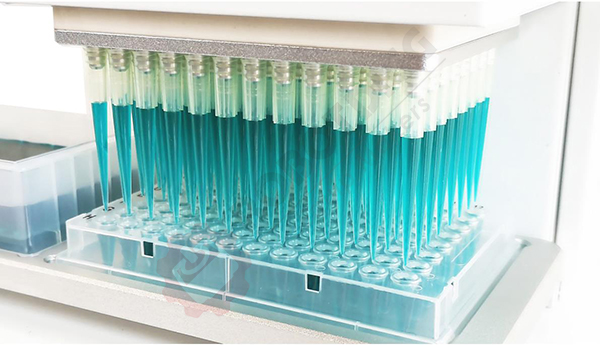 FASTER WORKFLOW FOR FASTER EXPERIMENTAL EFFICIENCY
It's easier and faster to improve microplate pipetting efficiency and reliability.
Pipetting on a 96 well plate is 8 times faster than a traditional electric pipette.
It is the ideal device for fast, accurate, and repetitive pipetting or transfer plates.

❤ IMPROVED USER EXPERIENCE WITH A MORE STREAMLINED OPERATING SYSTEM
JWORKS automatic control software has lots of features but easy to use.
Any operator can immediately master it by plug-and-plan almost without any training.
It has a customized and intuitive interface, easy to operate.
You can clearly observe each process and minimize programming time.
For more complex pipetting processes, we can create 50 steps with 100 groups of customized solutions and it can automatically proceed with them accordingly.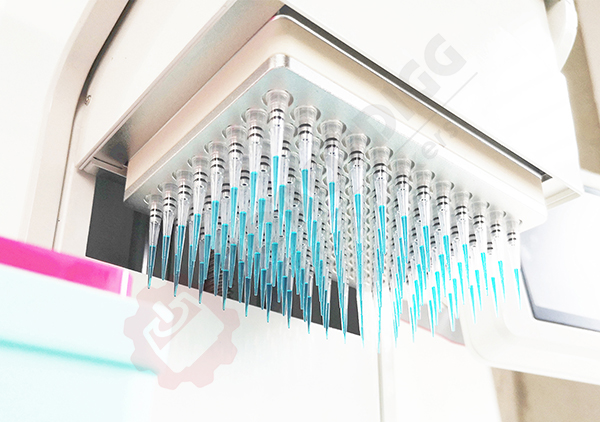 MORE FLEXIBLE LAB ASSISTANTS, COMPATIBLE WITH MORE APPLICATIONS
It provides wider lab and laboratory supplies compatibility, and more flexible pipetting ranges.
It can be easily replaced within less than one minute according to different ranges required by different applications.
It can achieve precise pipetting among the range of 0.1-1000ul, easy operation, very user-friendly design.
It's really the best choice of high-throughput liquid pipetting.

MORE COMPACT DESIGN TO BE USED IN DIFFERENT WORKING ENVIRONMENT
The unique design concept and compact design make SC9100 only occupy a small space on the lab bench, under a laminar cleansing hood without affecting normal airflow so as to allow the user to work under sterile conditions.
One pallet can host 8 block microplates to optimize space usage.



MORE SCIENTIFIC MANUFACTURING PROCESSES TO REDUCE THE OPERATION COST
To ensure precise separation without interfering with your results and making the experiment successful, we require the high purity and absolute inertia of the consumables.
With 100% polypropylene raw materials, we did not use any additives and eliminated all external sources of contamination in the fully automated purification plant.
So we recommend using PRCXI consumables.
At the same time, SC9100 is perfectly suitable for the majority of consumables.
Using SC9100 does not need to replace the original consumables.

In order to ensure the accurate separation of liquid, we are continuously exploring production technology and constantly improve product cost-effectiveness.
So laboratory operation cost can be continuously reduced.
With our solid product quality and gold post-sale service system with three-year warranty service, you can use it more conveniently.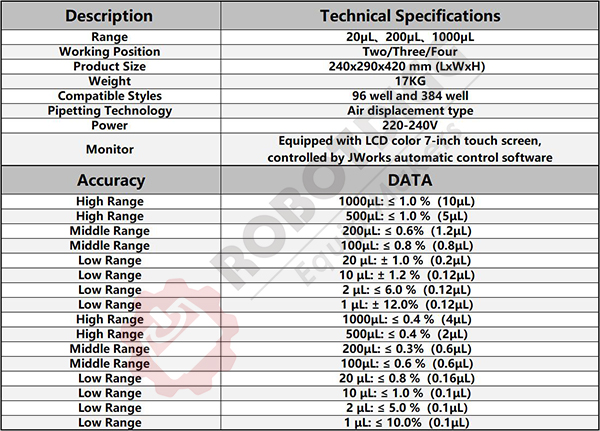 SC9100 Semi-automatic Pipetting Station
Machine dimension is: 40x29x42CM
Package dimension is: 51x46x73CM
Package charging weight: 35KG


SC9200 Fully Automatic Pipetting Workstation
Package dimension is: 100x45x68CM
Package charging weight: 62KG

Reservoirs Dimension is: 125*85*30MM
50pcs per carton
Carton Dimension is:500*290*200MM


SC9100 Semi-auto: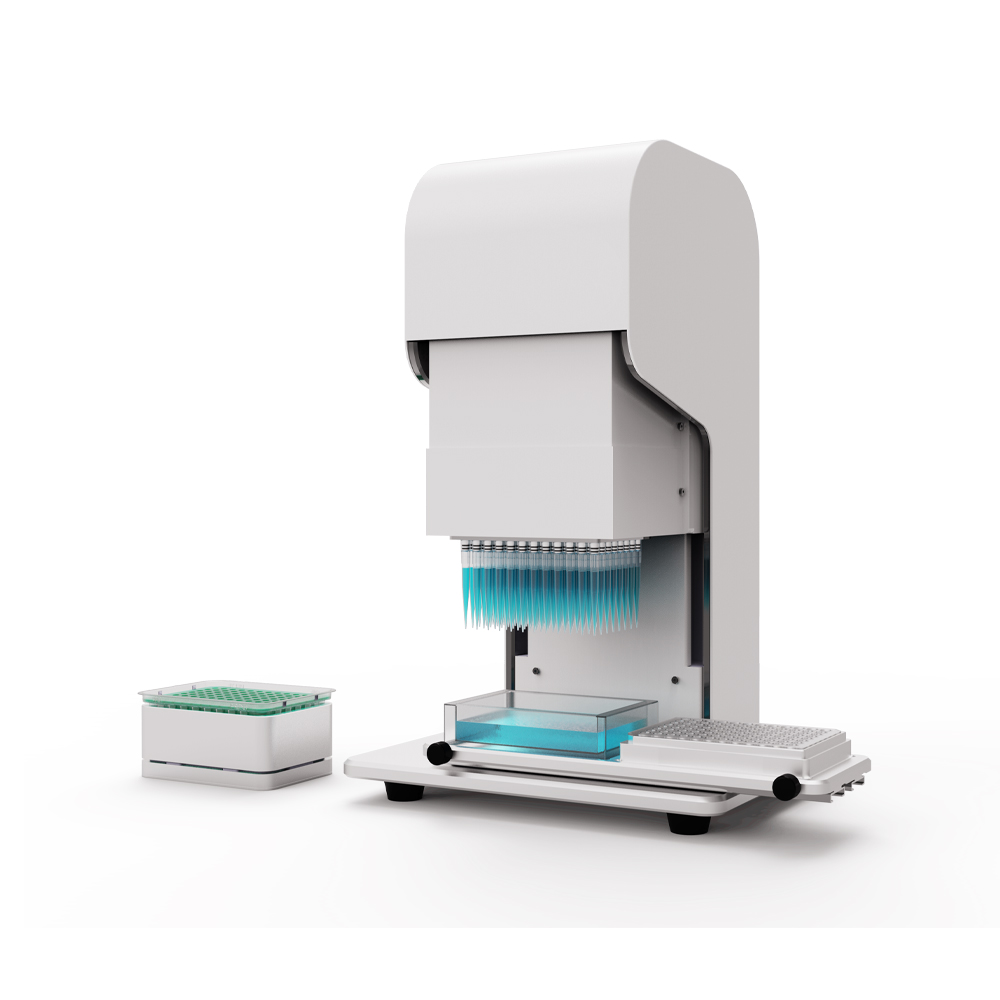 SC9200 Fully Auto: