Designed to meet the requirements of the electronics engineering industries
Safe sweezers anti-static
Anti-magnetic
Note: Put it away from kids!
Material: Stainless Steel
Color: Black
Type: Hand tools
Compatible: Watch,Xbox 360,Mobilephone,Desktop,Camera,Glasses,Laptop
Special features: Made of stainless steel, Durable, Easy to carry, Fine tip
Function: For watch, mobile phone repairing, Taking refine stuff, For nail art making
Package weight: 0.142 kg
Package size (L x W x H): 19.50 x 10.00 x 2.00 cm / 7.68 x 3.94 x 0.79 inches
Package Contents: 6 x Tweezer
ESD-10:Non-magnetic,anti-static (110mm) ESD-11:Non-magnetic,fine tip straight (140mm)
ESD-12:Non-magnetic,fine tip straight (135mm)
ESD-13:Non-magnetic,fine and Round (120mm)
ESD-14:Non-magnetic,Super fine tip straight (110mm)
ESD-15:Non-magnetic,fine tip curved (116mm).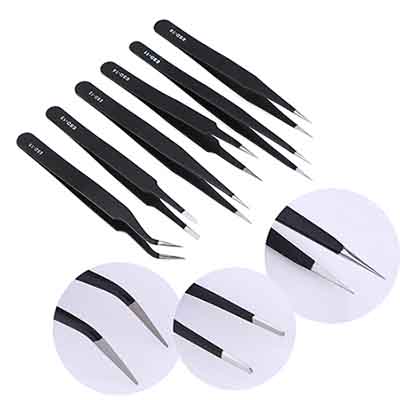 BGA Repair Tool Soldering Station Welding Assist hand tools.