Plastic mesh sleeve Extrusion Line
PE or PP Mesh Sleeve is extruded through small openings in rotating round molds knotless. It's used for packaging purposes the most.
The mesh sleeve extrusion line includes Extruder SJ50, SJ65 or larger ones, Extruder die or mold (1 out of 1 or 2 out of 1), Puller or Tractor, Water tank for cooling, Winder and the electrical cabinet.
As usual, the mesh sleeve is winded other than cut into length for packing, compared with the fruit foam sleeve, it's going to be cut into length when it's applied.

Fruit foam sleeve Extrusion Line
PE or EPE Foam Sleeve is soft packing material. Due to its unique expanding reticulation structure and the elastic foamed net film, it is widely used in the package of glass product, precision instrument, various fruits, etc.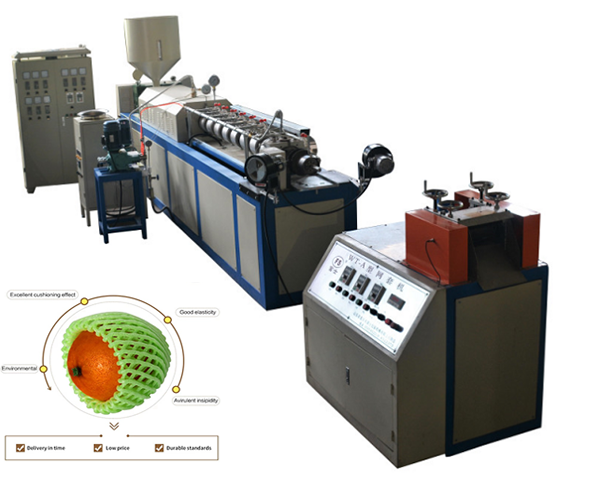 As mentioned above, compared with mesh sleeve, the foam sleeve are usually cut into set length for fruit packing or flower protective, so the Fruit foam sleeve extrusion line is different from plastic mesh sleeve, it includes Extruder, the extruder die or mold, foaming agent injection unit, anti-shrinkage agent injection unit, the Cutter and the control cabinet.