BLD70 Brushless DC Motor Driver
Features:
- Reliable brushless DC motor driver
- Three-phase full-bridge, PWM controlling mode
- Full hardware design, high speed, anti-interference ability
- Small volume, low heat radiation
Functions:
- Lack of voltage, overheat protection
- Block to auomatic protecion
- Error protection
- Support built-in potentiometers, external potentiometer, and analog voltage speed detection
- Braking function
Parameters:
- Environment temp: min -30, max: 60 degree
- Input voltage: Min: 12 max: 24V
- Output current: 0.05-3A
- Suitable motor rotate speed: 0-20000RPM
- Signal voltage: 4.5-6.5V(Rated voltage: 6.25)
- Driver current: rated current: 10mA
- External speed adjusting potentiometer: 10K ohm


Four modes of speed regulation
Build-in potentiometer RV
Rotate the RV knob clockwise, the motor starts to run and accelerate.
Motor speed will decrease if anticlockwise.
When it gets to a limited position, the motor stops.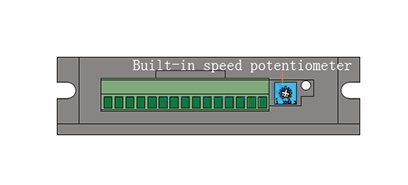 External potentiometer
Use a suitable potentiometer with a resistance value of 10KΩ, connect the middle terminal with SV terminal, and the other two terminals are respectively connected with VCC terminal and DC- terminal.


Input analog signal (0-5V)
Voltage and motor speed relational diagram(unloaded)




Quick brake
BRK and COM are connected in default, the motor will be a quick brake, When BRK and COM are disconnected, the motor will rotate.


CW/CCW rotation
Connect F/R and COM, the motor will rotate clockwise, disconnect it, the motor will rotate anticlockwise.



Peaking current setting
Equipped with a motor protection function, the driver provides options to set the desired current number in the P-sv , knob to avoid over-current for the motor. Please note that the random error is ±10% . The setting should be matched with motor rated current.