Size 17 Gecko stepper controller RS485 protocol
PMC006B3 is a kind of miniature integrated stepper motor controller,which can be directly mounted onto Nema17 stepper motor. The microstepping stepper controller can achieve Networking as many as 35 pieces stepper motor n controller controlled by one upper host PC, PLC or Tablet PC. PMC006B3 provides a simple and rich set of control commands,which not only greatly simplifies the complexity of the upper layer control system, but also maximally reserves flexibility of control, and is suitable for all kinds of high precision, wide range of industry using.
Power supply: 12-36VDC
Phase current Max 2.75A
Full, half, 1/4th, 1/8th, 16th and 32th Microstepping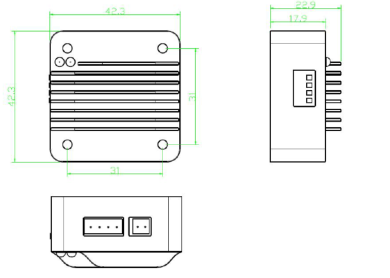 RS485 Programmable IO Controller Module
PIO002 is a kind of programmable general purpose IO controller, which can be stacked installation with RS485SMC stepper motor controller directly. The series IO Module provides a variety of method of connection and control with general IO interface, encoder, DC motor and solenoid valve. The PIO002xx controller can be used to extend the 13 general-purpose IO ports and 14 channels of large current output ports. The PIO002 provides simple, rich control command set, which can be connected with host computer through the UART/RS485/CAN, and which can automatically run the user defined program in offline mode.


General purpose RS485 protocol Programmable Input and Output Controller
Working voltage: 8-36VDC
Persistent current: Each output 500mA, can be used in parallel
Operation mode: Host computer control mode, automatic operation off-line mode
Digital ports: 13 general IO, direction can be configured
Encoder interface: one rotary incremental encoder
Stepping motor: 1 interface with stepper motor driver, automatic acceleration and deceleration control
Analog ports: 2 channels of analog input
Drive ports: 14 high current drive ports, which 4 way PWM can be adjusted
Protection circuit: When voltage is greater than 40V or power supply is reversed connection, the positive pole of power and the ground will be short connected. For preventing such damages, there need a fuse added between the poles of power supply.