Helicopter Simulator
Robson Helicopter R22 n R44 Flight Simulator
This flight simulator provides functions and features required by military and civilian professional aviation academies, flight schools and instructors to teach and evaluate aircraft control techniques in addition to VFR and IFR procedures, aircraft systems, normal and emergency procedures.


R22 Flight Simulation


Real R22 Flight View



Simple Flight Simulator


Flight and Drive Simulaton Showroom



Flight simulator contains 6 DOF platform system, MD box, Robinson R22 Flight Room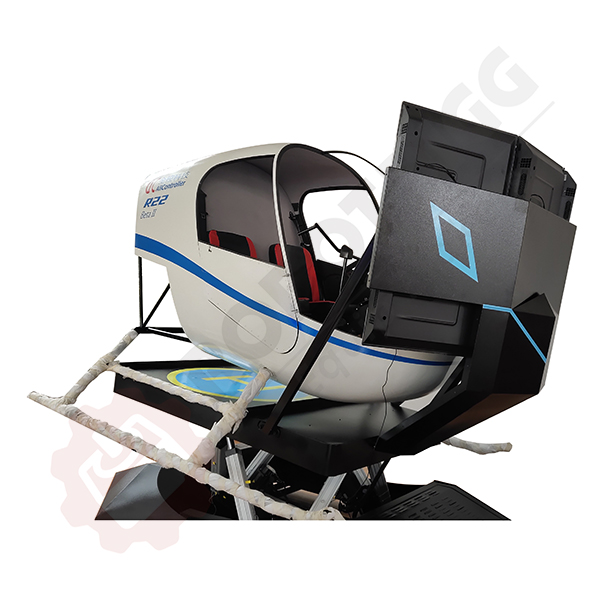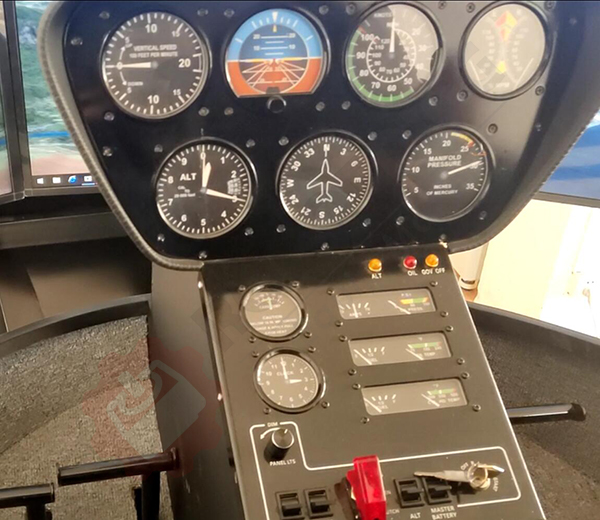 R22 n R44 Simulator Platform Parameters:
Upper platform size: 1162mm * 1812mm
The lower platform size: 1609mm * 2409mm (the size is tentatively determined, which is subject to confirmation by the customer)
Platform height: 786mm
Self weight: 500Kg
Effective load: 800Kg
Longitudinal displacement: 320mm
Lateral displacement: 280mm
Vertical lift: 251mm
Pitch: +/- 27deg
Rolling: +/- 22deg
Torsion: +/- 45deg
Noise (db) <65
Error-free running time (H) > 5000

R22 n R44 Simulator Electric Cylinder Parameters:
Model: AC-EC-130-300
Form: Foldback
Screw diameter (mm): 25
Screw lead (mm): 5
Stroke (mm): 300
Rated output (KN): 8.6
Reduction ratio: 1.5
Installation method: front and rear fork hinge / flange / trunnion
Rated speed (mm / sec): 167 (continuously adjustable)
Limit switch: 2, NPN type, normally open.
Internal with magnetic ring

R22 n R44 Simulator Servo Motor and Drive Parameters:
DL4.5kW-110mm motor
Rated speed: 3000rpm
Working current: 7.5A
Motor rated power: 4.5kW * 6
Torque: 5.7N.m
Rated speed: 3000rpm
DL servo drive
Supply voltage: AC 220V
Working current: 7.5A
System power (maximum peak): 27kW
System power (actual consumption): 8.5kW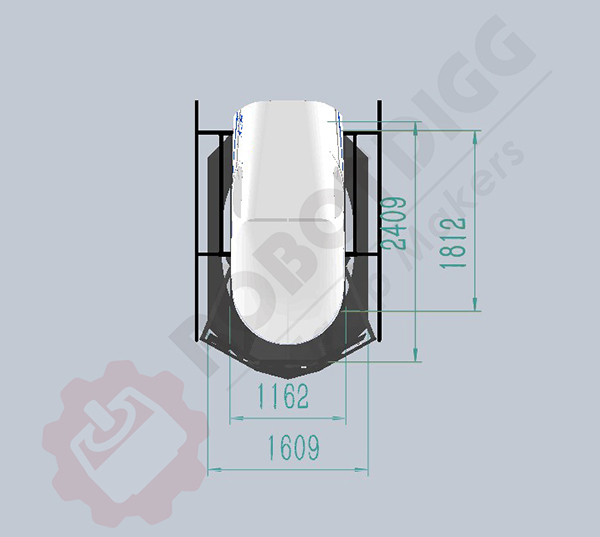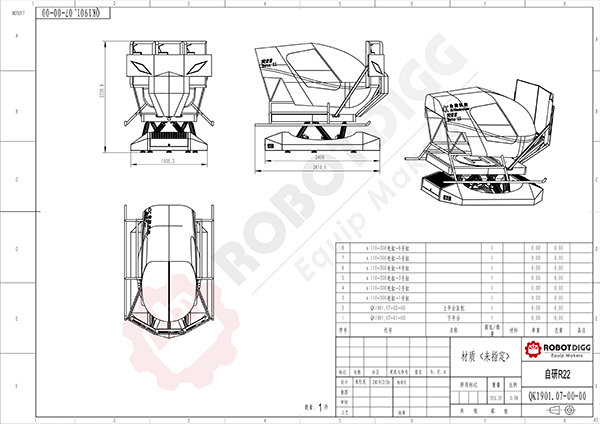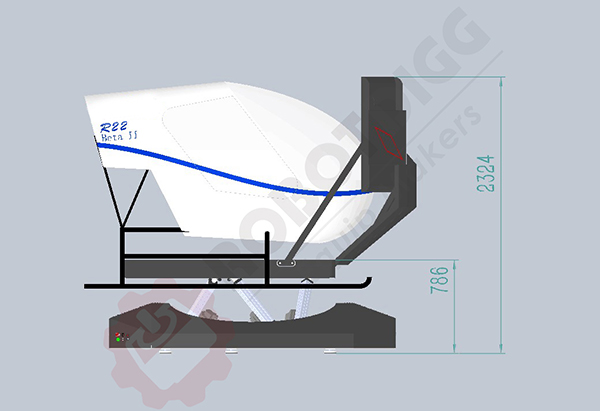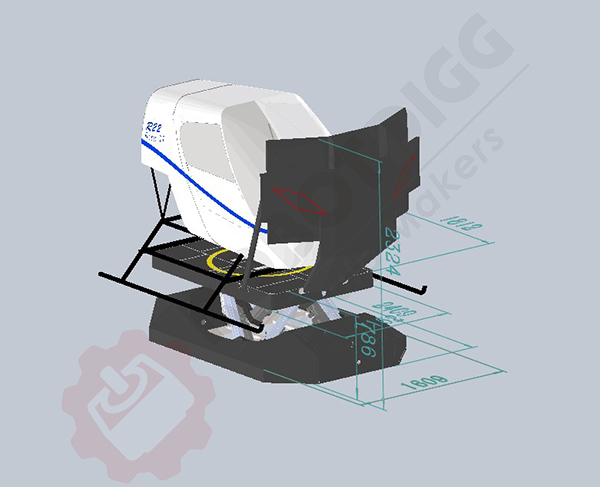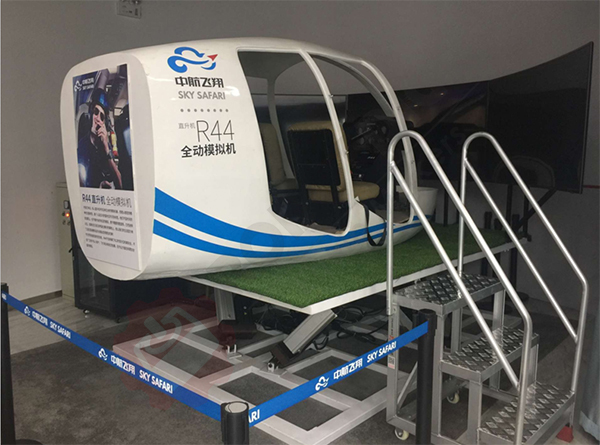 Robinson R22 and R44 both have three big screens in from of the driving room, even do not wear VR glasses, you also can get the great game experience from the screens.
Basic of this simulator taking high performance is the 6 DOF platform, it can bring you full attitude from the pitch, roll, and yaw.
The flight simulation system realizes the logic of the R22&R44 helicopter's power system, avionics system, control system, and flight dynamics system. It can simulate every detail of the aircraft from start-up to flight and can feel the influence of external factors such as weather on flight. It can simulate faults such as engine failure.
The vision software system uses a highly efficient 3D flight rendering engine with high rendering efficiency and smooth picture rendering. The rendering efficiency can reach 50 frames per second in 3240x1920px. The visual database has built-in global terrain and navigation data, including more than 20,000 airports and more than 50,000 airstrips in the world, and can be customized to develop airport views.

Basic Flight Simulator "FS basic"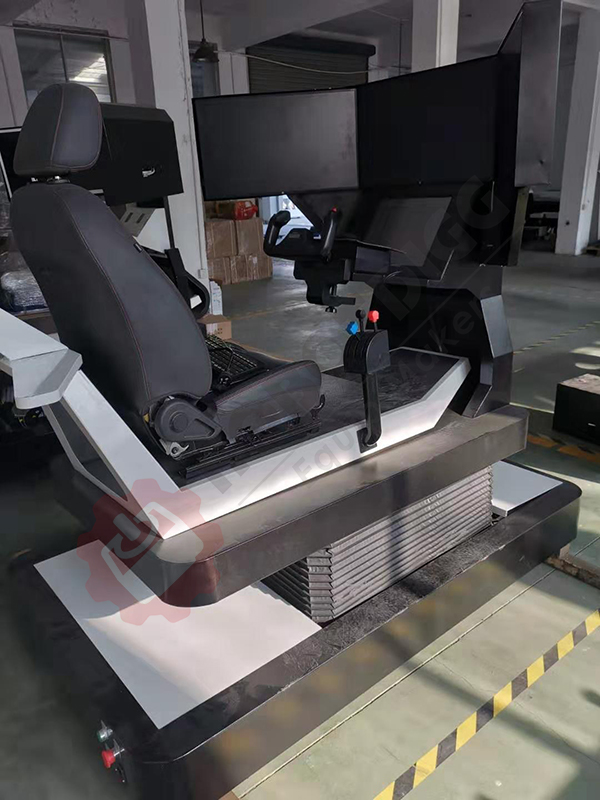 FS basic Platform Parameters:
Simulator Size: 1870x1845x1752mm
Weight: 250KG
Effective load: 200KG
Longitudinal displacement: 150mm
Lateral displacement: 140mm
Vertical lift: 160mm
Pitch: +/- 15deg
Roll: +/- 14deg
Yaw: +/- 15deg
Noise (db);65
Error-free running time(H) > 5000

FS basic Electric Cylinder Parameters:
Model: AC-EC-80-150
Form: Foldback
Screw diameter (mm): 20
Screw lead (mm): 5
Stroke (mm): 150
Rated output (KN): 10
Reduction ratio: 1.5
Installation method: front and rear fork hinge / flange / trunnion
Rated speed (mm / sec): 167 (continuously adjustable)
Limit switch: 2, NPN type, normally open.
Internal with magnetic ring

FS basic Servo Motor and Drive Parameters:
DL 0.75KW-80mm flange motor
Rated speed: 3000rpm
Working current: 5.3A
Motor rated power: 0.75KW * 6
Torque: 2.39N.m
Rated speed: 3000rpm

FS basic Servo Driver Parameters:
DL servo drive
Supply voltage: AC 220V
Working current: 5.3A
System power (maximum peak): 4.5KW
System power (actual consumption): 1.3KW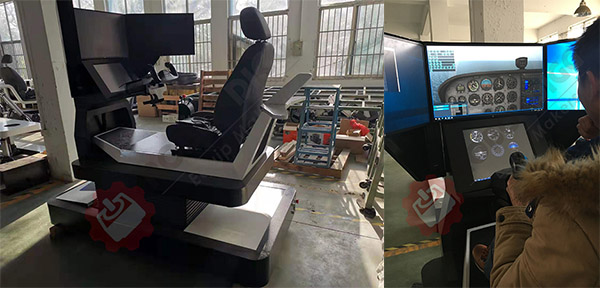 FS basic Control System
The signal control board V5xx series version uses a higher speed 32bit ARM Cortex-M3 chip. The control board adds a 32bit coprocessor (not the traditional dual core concept, but a true dual CPU chip) with A/B/Z encoder signal feedback detection, real-time torque signal detection, drive alarm detection and drive alarms. Clear and other functions. The control precision of the electric cylinder is greatly improved.
The improved control algorithm allows the electric cylinder to incorporate special actions such as chattering and shaking during normal ups and downs. The control software adopts the intelligent fuzzy neural network control algorithm, and adds a RS232 communication interface. The user can adjust the control platform through the interface (need to cooperate with the calibration software) to adjust various parameters of the platform motion. The interface of the six drives on the board is DB15 (double row) socket; the calibration interface is DB9 socket; the power input interface is EDG7.62-2 bending foot sealing seat; the board has 8 solenoid valves at the same time. Drive function, can be output as a special effect. And 4 way switch input, can be used as emergency switch, seat belt switch, seat switch, coin acceptor signal and other functions.
The platform motion control card integrates a variety of three- or six-degree-of-freedom platform data model and algorithm model, and receives the three- or six-degree-of-freedom attitude data of the upper computer to perform corresponding mathematical operations, and then calculates the extension of 3/6 cylinders. Long amount. The movement of the six degrees of freedom (X, Y, Z, α, β, γ) of the upper platform in space is completed, so that various spatial motion gestures can be simulated.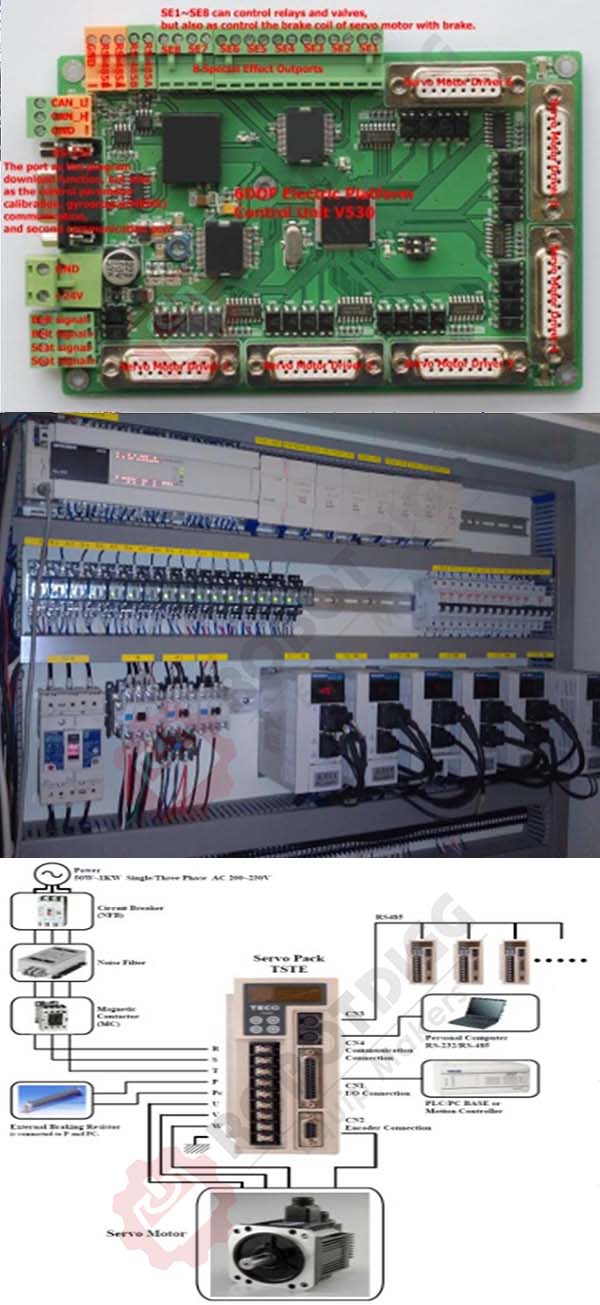 FS basic Commercial simulator general software
Universal support for game engines and official interfaces.
With Microsoft's Direct3D motion driver (similar to 3D stereo drive), force feedback, OpenGL and direct memory access support.
The range of simulators supports 3D virtual reality applications using D3D/OPENGL from simple racing seats to large flight simulators.
Game input device automatic detection
Automatically detect and set game features
Trigger the simulator at the start of the game
Attitude and force feedback drive
Fully configurable program cycle time
Multi-input device support (joystick machine)
Universal serial RS232 and RS485 output
Initial operation test panel for each port
Mixed network mode
Server independent use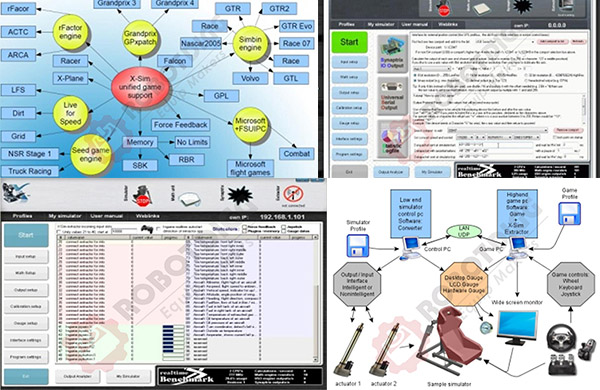 Flight Simulator Games Software
All of these three simulators can support game like: X-Plane 9, X-Plane 10, X-Plane 11, LockOn, LockOn 2, DCS WORLD, Aerofly FS 2, FS98, FS2000, FS2002, FS2004, FSX, CFS1, CFS2, CFS3, P3D, P3D V2, P3D V3, P3D V4, Ace Combat, FlightGear, Real Flight G2.
And some of them also can support VR glasses as X-plane 11, DCS WORLD, FS2, P3D V4.