High-throughput manual pipetting station
MANUAL HIGH-THROUGHPUT PIPETTING Station— PIPETTING NEW POSES
SC9100 96/384 Channel Semi-auto Pipetting Station
Pipette Tips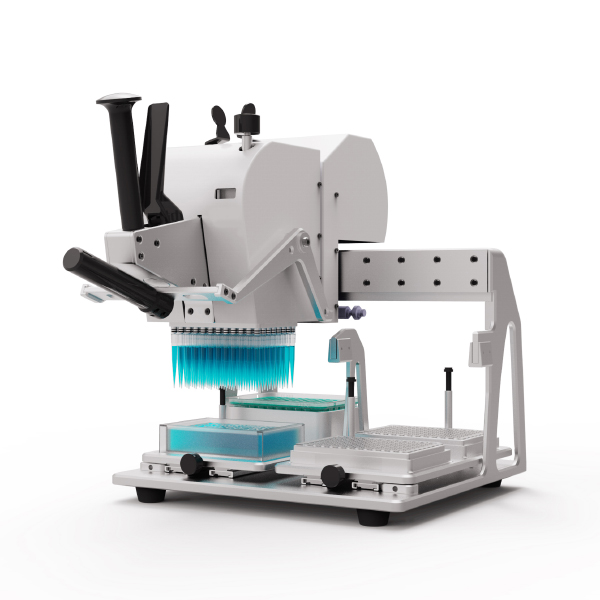 96-well plate pipetting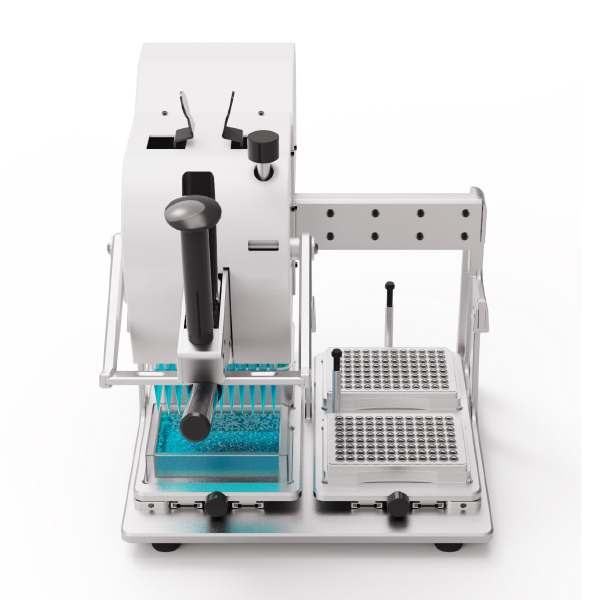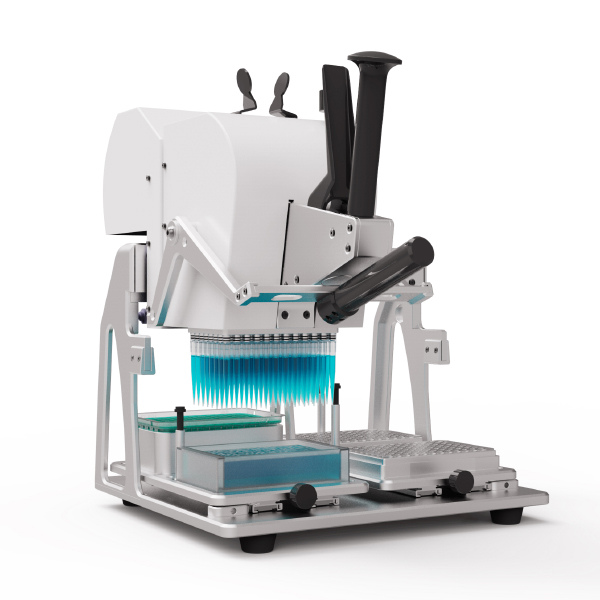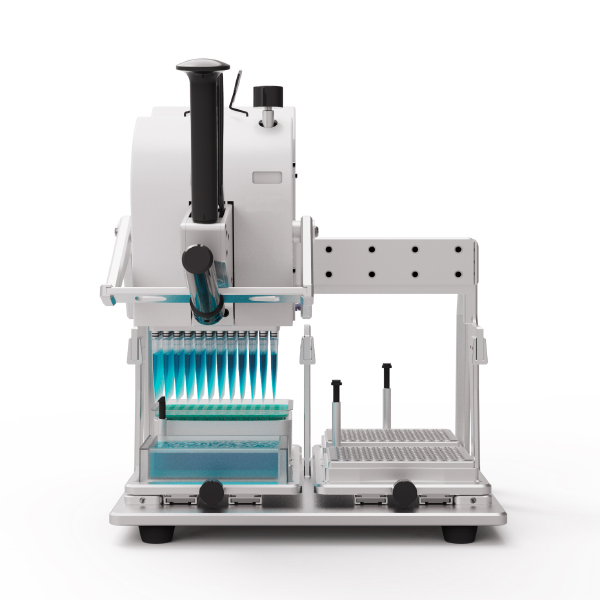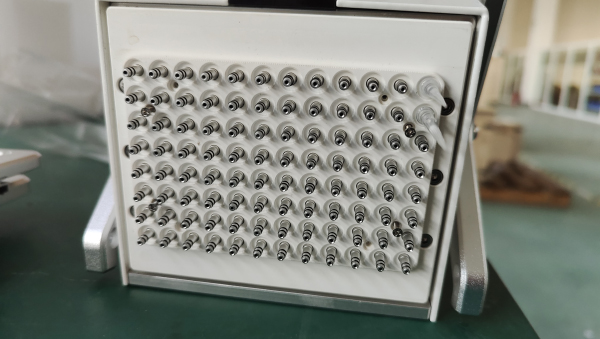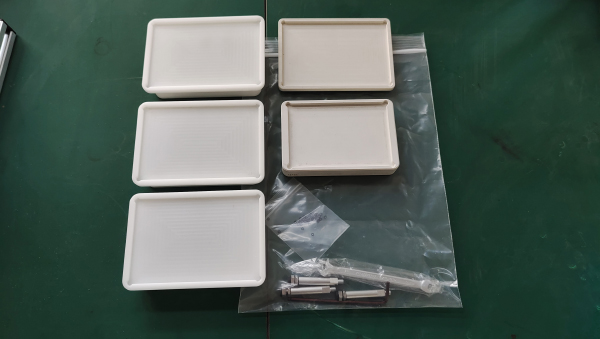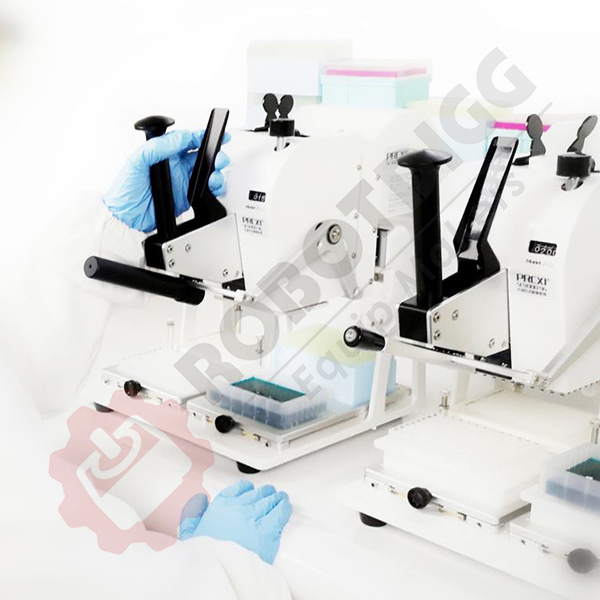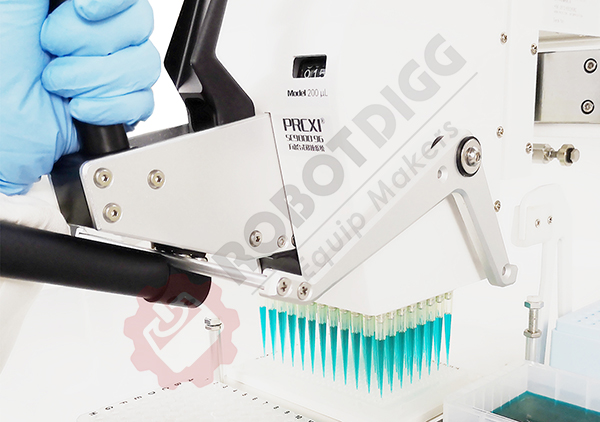 The SC9000 provides 0.5~20μl and 5~200μl two ranges, which have been applied in many fields, such as template copying, transfer between 96-well plates and 384-well plates, orifice cleaning, dilution, and elisa/eia.
It can be used for pipetting 96 holes at a time simplifies the work of micro-applications such as ELISA, cell analysis, QPCR, and protein crystallization, etc.
The SC9000 is ergonomically designed, purely manual, and virtually without training.

Faster lab assistants to speed up workflow
More accurate liquid handling for improved data quality
A more convenient pipetting system eliminates work fatigue
A wider range of applications to optimize more work
More scientific manufacturing processes to reduce the cost of use



FASTER LAB ASSISTANT TO ACCELERATE YOUR WORKFLOW
Multi-orifice plates are used in genomics, proteomics, and cell work.
It significantly enhances downstream analytical capabilities.
By understanding how researchers work, we find that multiple orifice plates have many advantages, but it is challenging to fill the multi-channel plates daily.

By using single or multi-channel pipettes, it is slow and tedious.
It not only consumes a lot of time but also makes researchers very tired and greatly increases the risk of skipping or repeating the filling.
Automated pipetting equipment provides higher throughput, but requires dedicated space and power supplies.
It also takes more time for researchers to train and perform quite a complex programming.

SC9000's ultra-fast pipetting provides a better solution for porous plate pipetting.
No programming, no plug-in, simple training, immediate pipetting.
SC9000 can effectively reduce pipetting steps. It takes less than 6 seconds to complete one time of 96-well plate pipetting by hand, and only 4 steps for 384-well plate with 2 times within 1 minute. It can complete experimental data analysis more quickly.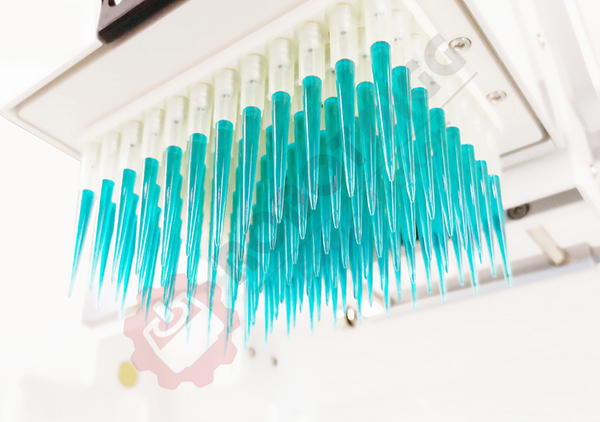 MORE ACCURATE LIQUID HANDLING TO IMPROVE DATE
SC9000 can start or stop the enzymatic reaction or cell experiment at the same time in the 96-well plate, and the 96-well plate is simultaneously pipetting, which greatly improves the quality of experimental data such as ELISA, and eliminates the difference between well to well, improves the reproducibility from well to well and from plate to plate, and never skips or repeats pipetting.

As a very precise pipetting station, SC9000 has a high degree of accuracy and you will gain incredible precision and repeatability from 0.5μl to 200μl, with absolutely no impact on the experiment.
The results are trustworthy!



MORE CONVENIENT PIPETTING SYSTEM TO ELIMINATE WORK FATIGUE
The SC9000 requires no programming, no training, no plug-in. It can be operated flexibly.
It has the same operation as a manual pipette, but in a more ergonomic approach to eliminate hand fatigue.
It is easier to load and unload 96 heads. More comfortable to use and save more time and energy.

Compact size, suitable for use in any laboratory.
It can be placed in an ultra-clean table or laminar flow cabinets.
It's also smart, lightweight, and easy to handle.

WIDER RANGE OF APPLICATIONS TO ACHIEVE MORE WORK EFFICIENCY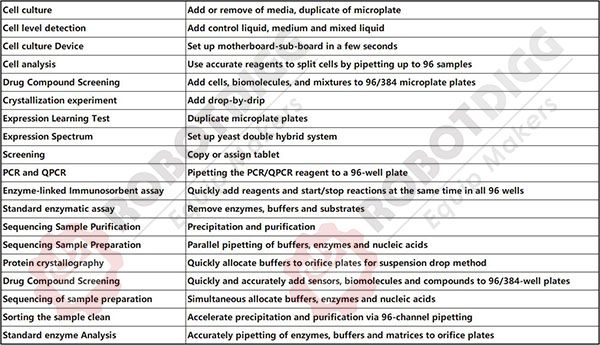 MORE SCIENTIFIC MANUFACTURING PROCESSES TO REDUCE THE OPERATION COST
To ensure precise separation without interfering with your results and making the experiment successful, we require the high purity and absolute inertia of the consumables.
With 100% polypropylene raw materials, we did not use any additives and eliminated all external sources of contamination in the fully automated purification plant.
So we recommend using ZhongXi consumables.
At the same time, SC9000 is perfectly suitable for the majority of consumables.
Using SC9000 does not need to replace the original consumables.

In order to ensure the accurate separation of liquid, We are continuously exploring production technology, and constantly improve product cost-effectiveness.
So laboratory operation costs can be continuously reduced.
With Our solid product quality and gold post-sale service system with a three-year warranty service, you can use it more conveniently.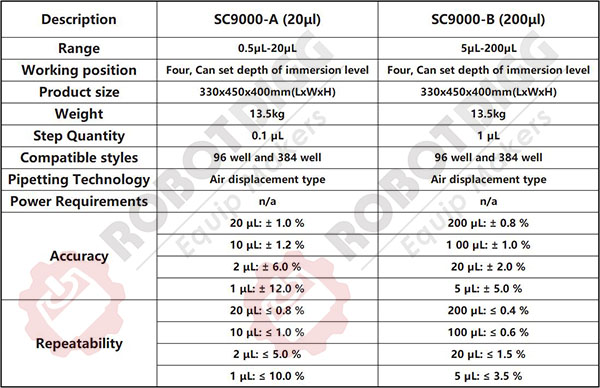 Pipetting step is simple and intuitive
1, loading tips,
2, aspirate solution,
3, transfer solution;
Operate quietly without noise, so as to create a good laboratory environment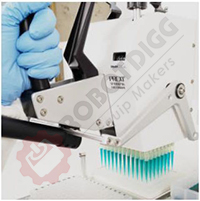 20μL Type:
Model Name: SC9000-A
Range: 0.5µL-20µL
Working position: Four, Can set depth of immersion level
Product size: 330x450x400mm(LxWxH)
Weight: 13.5kg
Step Quantity: 0.1µL
Compatible styles: 96 well and 384 well
Pipetting Technology: Air displacement type
Power Requirements: n/a
Accuracy: 20μL: ± 1.0 %; 10μL: ± 1.2 %; 2μL: ± 6.0 %; 1μL: ± 12.0 %
Repeatability: 20μL: ≤ 0.8 %; 10μL: ≤ 1.0 %; 2μL: ≤ 5.0 %; 1μL: ≤ 10.0 %



200μL Type:
Model Name: SC9000-B
Range: 5µL-200µL
Working position: Four, Can set depth of immersion level
Product size: 330x450x400mm(LxWxH)
Weight: 13.5kg
Step Quantity: 1µL
Compatible styles: 96 well and 384 well
Pipetting Technology: Air displacement type
Power Requirements: n/a
Accuracy: 200µL: ± 0.8 %; 100µL: ± 1.0 %; 20µL: ± 2.0 %; 5µL: ± 5.0 %
Repeatability: 200µL: ≤ 0.4 %; 100µL: ≤ 0.6 %; 20µL: ≤ 1.5 %; 5µL: ≤ 3.5 %