LST01-1A micro volume touch screen syringe pumps is single channel syringe pump which is mainly used in bio-laboratory. The acceptable syringe specification is from 10 μL to 10 mL. Suitable for high accuracy and small flow rate liquid transferring.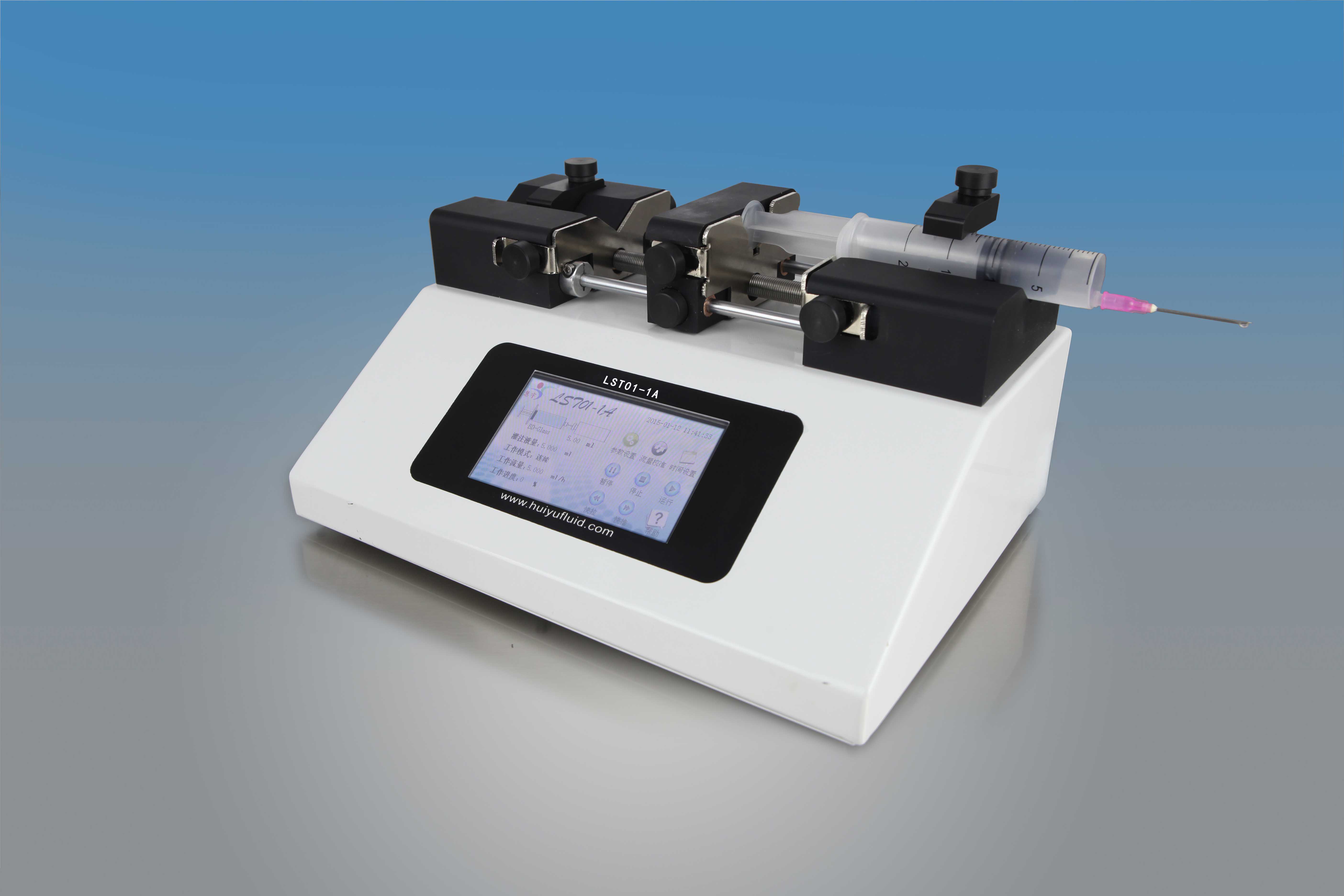 Technical specification
Syringe pump operating modes: push-pull mode
number of syringe:1
Maximum stroke:78mm
Stroke Resolution:0.156μm
Linear velocity range:5μm/min-65mm/min(flow=Line speed×Sectional area of the syringe)
Line speed adjustment resolution:5μm/min
Stroke control accuracy:error≤±0.5%(stroke≥30% of the maximum stroke)
Rated linear thrust:>90N
Option of syringe:the main syringe models of major manufacrurers for option
Syringe setting:can input the diameter of syringe directly
Flow calibration: more accurate flow of liquid by calibration
Operating parameters setting:dispensing volume and time etc
Parameter to be displayed:volume,flow,line speed
Power off memory:can select if work as the previous status before power off when re-powered
Signal output:2 way OC gate signal output to indicate start/stop status.
Control signal input:2 way start/stop control terminal,1 way go down to control start/sotp by triger signal,
1way TTL level signal to control start/stop
commuication interface:RS485
power supply:AC 90V-260V/15W
Suitable temperature:0℃-40℃
Suitable humidity:relative humidity<80%
Measurements:280×210×140(mm)
Weight:3.6kg

Function and Features of LST01-1A
Syrige diameter input:can select syringe in list or input the data of diameter directly.
Userfriendly manu:Large LCD screen
Power off memory: 1.EEPROM save the set parameters after power, no need to re-set. 2. Under flow mode when power is restored
can continue to operate according to set parameters after power-up or stop
Jam protection function: When the working process of advancing the syringe pump mechanism is blocked, injection pump will stop
advancing mechanism work issued whistle alarm
RS485 communication with host PC
Exteral control:input / output control function
Flow calibration: more accurate flow of liquid by calibration
Syringe protection function:By adjusting the position of the stopper can prevent damage to the syringe


Other parameters of LST01-1A
Model

Suitable syringe

Inner diameter of syringe

(mm)

Flow rate(μl/min-ml/min)

LST01-1A

10μl

0.50

0.001-0.0128

25μl

0.80

0.0025-0.0327

50μl

1.10

0.0048-0.0618

100μl

1.60

0.0101-0.1307

250μl

2.30

0.0208-0.2701

500μl

3.25

0.0415-0.5392

1ml

4.72

0.0875-1.1373

2ml

9.00

0.3181-4.1351

5ml

13.10

0.6739-8.7608

10ml

16.60

1.0821-14.068

20ml

19.00

1.4176-18.429

30ml

23.00

2.0774-27.006

60ml

29.14

3.3346-43.349