Prototype SCARA Robot Arm
The new arrival RDG-SCARA, Rated load 1Kg, can be customized to carry 2-3Kgs.
DEMO_SCARA is belt driven only without harmonic drive 0.3mm positioning precision.
RDG_SCARA is harmonic drive 0.1mm positioning precision.
Can be used to loading and uploading, palletizing, glue dispensing or cutting pins

STEP_SCARA
Closed-loop Stepper Motors
Timing belt transmission system seat no.1 76:13 HTD5M, arm no.2 52:13 HTD5M and the end no.3 is HTD3M 83:16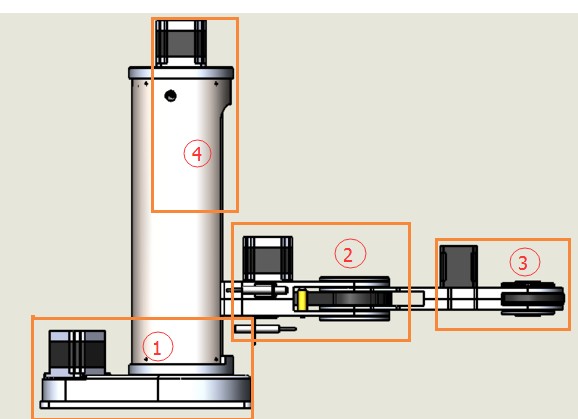 Z axis ball screw 1610 10mm per revolution no.4
CNC machined arm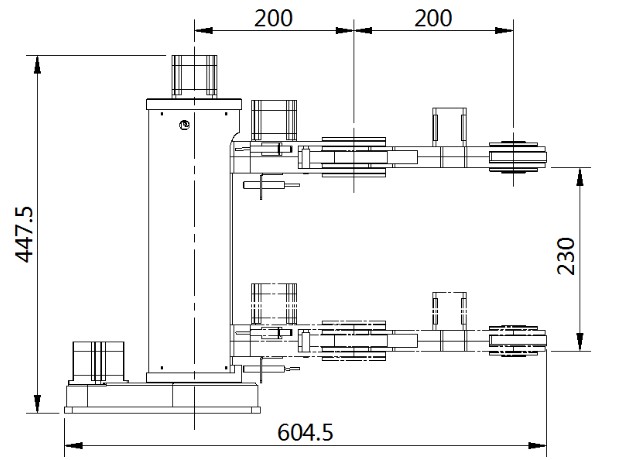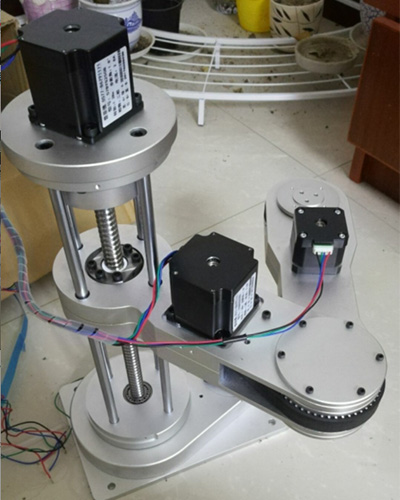 SCARA_CP, aluminum CNC machined parts, pulleys, belt, bearings, linear shaft, ball screw,etc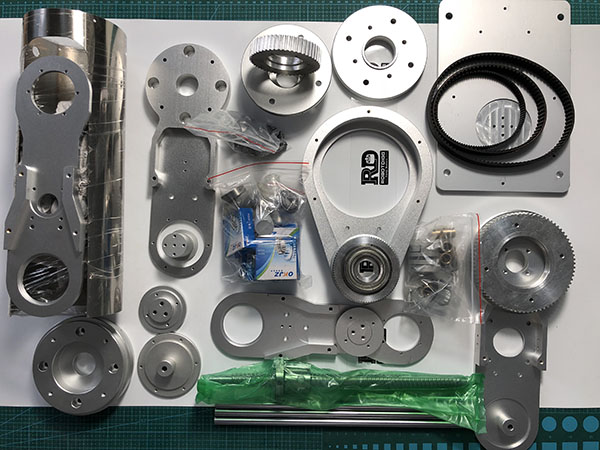 Note: Hand book of how to assemble is Not available.
How to make a SCARA Robot Arm work and what can it do?
Closed-loop stepper motor SCARA Robot Arm with stepper driver and power supply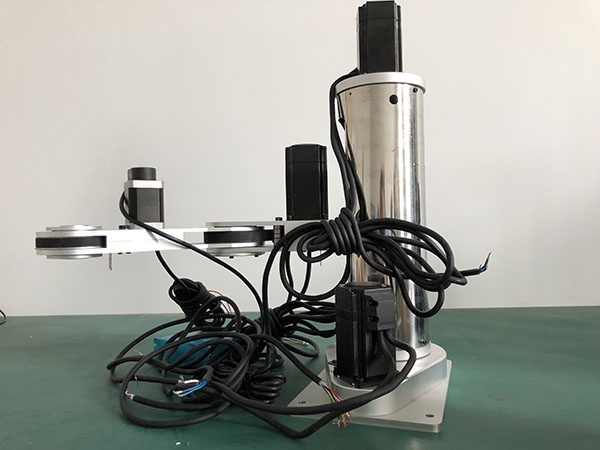 DEMO_SCARA Servo Motor with electronics and DEMO
Note: The SCARA SERVO is not for STEM education or entertainment, it's developed for Industrial Applications.
Servo motor 1.5A
Payload, rated load 1Kg, max load 2Kgs
Moving range: J1 +-130 degree, J2 +-150 degree, J3 200mm, J4 +-360 degree
Arm length 600mm
Repeat location accuarcy X-Y +-0.02mm, Z +-0.05mm, R +-0.025 degree
Max Moving Speed: J1+J2 5000mm/s, J3 1000mm/s, J4 1800D/s
Standard circle time: 0.42s
Airway 4mm*1, 6mm*2
J4 Intertia Moment 0.01Kg.m2
Function Linear Interpolation, arc interpolation, deceleration interpolation, force control, g code path program, and input and output control signals
Control Method, Demonstrator or connect PC via serial interface

New supply: RDG-SCARA complete SCARA Robot Arm, servo motors and China brand new harmonic gear drive adopted.
What is a SCARA Robot Arm can do?