Solder Paste Mixer
Default Primary Rotation revolution speed is 600RPM, Second Rotation speed is 300RPM, for solder paste or red glue, other mixing jobs is fine enough.
MIX500D2 slope efficiently and evenly mixes the solder paste to a liquid state. It helps to achieve better results of stencil orienting and reflowing process. The use of the mixer also reduces the chances of absorbing air moisture as it is no longer necessary to remove the lid of the solder paste jar before the paste is actually used in the production.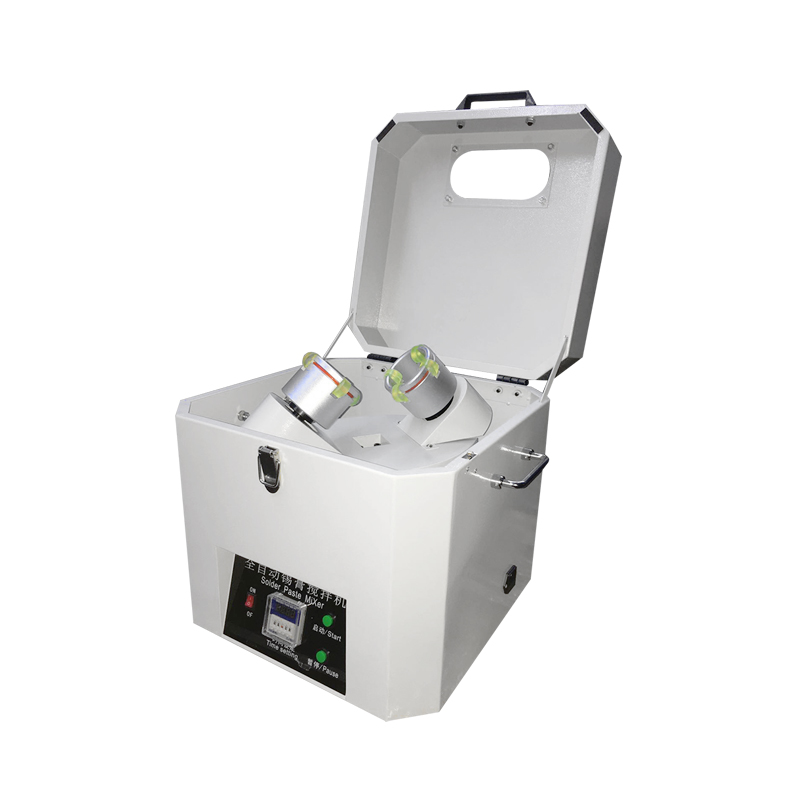 FEATURE
1、The solder cream jars are placed in 45 angle, and run around its axis line, so the solder cream will not adhere to the jar cover
2、Double security design to sure the safety of operators.
3、The air bubbles can be eliminated while the solder paste is being mixed.
4、The control of the solder paste mixing is considered fully with using special control circuit.
5、The rotating speed has proved by practice, so the impact against the tin power and the effect to solder paste quality in the rising temperature are avoided.


SPECIFICATIONS
Working Power 220V AC(50hz) 60W
110VAC(60hz) 60W (option)
Working Capacity 500g*2jar or 1000g*2jar (MIX1000D2) (please give us bottle diameter for customized)
Tin Pot's Sizes:
M diameterΦ60-Φ67 standard one
S diameterΦ53-Φ60 (please contact us if you'd like the size)
L diameterΦ67-Φ74 (for choose, please contact us)
Time Setting 0.1~9.9mins, adjust 0.1min per time;
10~30mins, adjust 1.0min per time.
Display & Caution LED digital display、light blink and buzzer warning
Machine's Dimension 400*400*520mm(W*D*H)
Packing Dimension 520*510*550mm(W*D*H)
Net/Gross Weight 30KG/35KG

HIGHLIGHT
The air bubble can be eliminated after the solder paste is being blended.


Solder paste mixer components, counterweight units are available please refer to the part number, if you are Not clear please email us and we will classify them for you, thanks.