If you want RobotDigg to give you some ideas on Reprap Stepper Motor. Here we are. Just as the reprap forum has been showed up, Nema14 and Nema17 Stepper are popular as Reprap Stepper Motor in small and medium sizes of 3d printers like Huxley, MendelMax. Nema23 is supplementary to Nema14 and Nema17 Stepper Motors.
We have some comments on the Nema23 stepper motor. Robotdigg do Not Nema23 Stepper is the best choice for Darwin or other reprap strong 3d printers if you use a 2A stepper driver like A4988 driver. At least 24V power supply for a Nema23 stepper and a strong stepper driver up to 3A or 4A are ideal. So if you use 12V and a stepper driver within 2A drive ability, a Nema17 long body stepper motor is recommend or a geared stepper motor is good. A Nema17 60mm stepper motor can have 0.65N.m holding torque. In the other side, a Nema17 60mm stepper motor is much cheaper than a Nema23 stepper or a geared nema17 stepper motor.
For small quantity less than 20pcs, short body Nema17 Stepper Motor 34mm and 40mm long, RobotDigg recommend you source them in your local area. Or buy from our dealers, now we have dealer of 17HS3001-20B Nema17 40mm Stepper in Australia, Brazil, Spain and U.S. 12USD, 14USD is reasonable price from dealers we think, shipping cost, VAT and a piece of profit margin. We will list our dealers out as soon as possible here.
Recently we have some reports on Wiring Questions on our Reprap Stepper Motors. And we have a look on it and find that it is not individual. The questions is that on motor side the color of the lead wires are Red(A+), Yellow(B+), Grey(A-) and Green(B-) in turn. As usual, on the other side the stepper driver B-, B+, A+ and A- but the Mark on A4988 Driver can make you confused. See the following: From the lower 1B, 1A, 2A and 2B. The question is that 1B and 1A is one phase(one coil) and 2A and 2B is the other phase(one coil).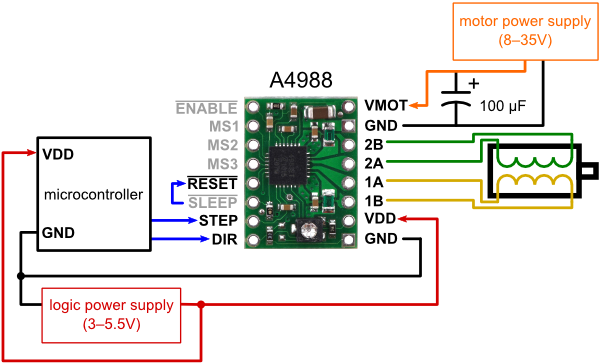 http://www.pololu.com/catalog/product/1182
A4988 Driver
To solve the wiring question using our stepper motor, you need to exchange the Yellow(the 2nd) and Grey(the 3rd) on the motor side or the other side of the lead wire(Plug to Stepper Driver).
RobotDigg welcome your order of our NEMA17 60mm 0.65N.m Stepper Motor and Threaded Rod Nema17 Stepper Motor with strong Tr8*8 Leadscrew.
Back to Nema23, is using a bigger size stepper motor means more powerful your 3d printer will be?
The answer is absolutely NOT.
RobotDigg find that most of 3d printer makers are trying to buy a longer body stepper motor. But that's only one side of the solution of higher torque output. The other side is the Stepper Driver. A4988 stepper driver is very popular in 3d printing industry, it's a good driver which can drive up to 2A. But when you use it to drive a long body stepper motor Nema17 48mm or 60mm Stepper when you give it 12V power supply, you find that you still have the question of low torque output. How to figure it out? Increase the power supply. You may say you have a 12V power system, so increase the set Current, at least equal to the Rated Current of the stepper motor you have in your 3d printer system.
OK, we are a little far. Why a Nema23 Stepper is not that ideal for your 3d printer?
As we know, Nema23 is very popular in CNC machines. We also can see that a CNC machine usually has 24V power supply.
Set the current of the stepper driver the Rated Current of the stepper motor. A stepper motor with rated current 1.5A, if you give only 1A, the holding torque could be half or even lower, especially when increase the speed and heat generation after a long time run.
Is there a Nema23 stepper motor good for 3d printer and can be drived by A4988 stepper driver?
The answer is yes. RobotDigg are glad to show you a Nema23 stepper of this kind in the near future.
Instead of a Nema23, are there a Nema17 Stepper Motor can meet my need?
A Nema17 60mm with Rated Current 1.5A(within 2A, set your A4988 stepper driver at 1.2A or 1.5A won't hurt the stepper driver. But if you set the stepper driver at 2A, it cann't run long time, the stepper motor may pause.), a Holding Torque 65N.cm 92oz.in which is really with enough power for your 3d printers.