GT2 Pulley 20 Tooth 4mm or 5mm Bore
Part No.: GT2-20T-5B-6 or GT2-20T-4B-6
The gt2 pulley сроки шкив with 20 teeth or grooves is one of the best choices for 3d printer construction. Compared with the T2.5 or MXL timing pulley, the gt2 pulley tooth profile is anti-backlash. Why? The rounded teeth of this tooth and belt are engaged together longer providing a smoother transition between teeth. This is what you need for your 3D printer. A smaller pulley with less teeth moves less belt per revolution. Not great for printing speed but with a 200 step motor and a 20 tooth pulley that means every single tooth on your belt can move in ten discrete steps! That's going to make for some really nice prints!
Specifications are as following:
Pitch: 2mm
Tooth: 20
Bore: 4mm, 5mm. 8mm Bore gt2 20 teeth pulley Ultimaker Pulley is also available from Stock.
Flange: Dual
Material: Aluminum
Max. Belt Width: 7mm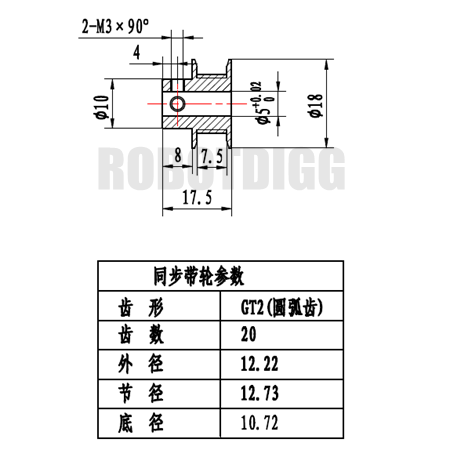 RobotDigg can machine you many kinds of Timing Pulleys with different tooth counts and profiles like the gt2 with 8mm bore and 36 teeth. We have experience on machining the T2.5, MXL and many other common pulleys. We can supply you PACK SET which includes a GT2 pulley, set screws and Allen Key for any order over 100pcs of gt2 pulleys. Please write us an email for a quote. RobotDigg can also supply you with gt2 6mm and 9mm open ended belts or ROUND closed loop gt2 belts for the gt2 pulley.
Do you know?
Every time someone handles an item it doubles in price? We manufacture the pulley, we sell to the exporter, they sell to the importer and then they sell it to the supplier at the store. It's sad but our two dollar pulley can end up costing you $10 to $16 at your local hobby shop. It's the same great pulley and everyone deserves to make a living but we want to keep our products affordable. That is why we started RobotDigg, to directly supply quality products at affordable prices to the 3D printing enthusiast and 3D printing machine manufacturers.

20 Tooth GT2 Pulley on 5mm Motor Shaft


Ultimaker Styple 5mm Bore 20 Tooth GT2 Pulley is coming to be available very soon for ordering.