PCB mill and drill BLDC spindle
High-speed brushless pcb mill spindle parameters:
Spindle motor: new brushless DC motor (NSK Bearings)
Model: RD42WS-104
Working voltage: 24VDC
Power: 104W
Speed: 65 ~ 10000rpm
Torque: 44.9 (N.cm)
Insulation resistance:> 2 Mega ohms
Insulation dielectric strength: 400V
Diameter: 42mm
Chuck part length: Arbor parts 32mm,
Chuck part diameter: 16mm
Motor length: 148mm (including the clamping part and the motor)
Spindle net weight: 1.0KG
Spindle radial runout 0.01-0.02 or so.
Can be used for carving metal or non-metallic materials.
The spindle features high speed, low noise, low heat, can work long frequently.
ER11 chuck can be easily replaced according to processing requirements, support for 1,1.5,2.0,2.5,3.0,3.175,3.5,4.0,4.5,5.0,5.5,6.0,6.5,7.0mm specifications ER11 chuck.


W is orange
V is gray
U is brown
GND black, HW yellow, HV green, HU white, +5V red.
Size 60 NEMA24 BLDC spindle motor RD60ZK-4830
Power supply: 48V DC
Rated current: 12A
Wattage: up to 600W
Torque: 1.3N.m
Speed: 0-3000rpm
Runout accuracy: 0.03mm
Chunk: ER20
Net weight: 3Kgs
Wiring diagram for the 600W BLDC Spindle
W is Blue
V is Green
U is Yellow
GND black, HW blue, HV green, HU yellow, +5V red.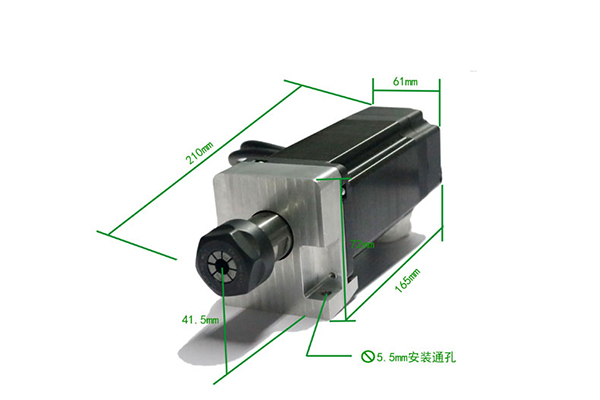 Note: the mounting plate is Not included with order of the BLDC Spindle.