5-axis 3040 or 6040 vertical cnc mill
Vertical CNC Router Engraving Drilling and Milling Machine
Specifications:

| | |
| --- | --- |
| Model | Pillar type 3040 CNC mill 1.5KW or 2KW |
| Attribute | 5 axis machine |
| X Y Z axis | √ |
| A axis (4th axis) | ⅹ |
| B axis (5th axis) | √ |

Effective working area 300x400x(150)mm
Precision ballscrew 1605
XYZ rail material Hard chrome shaft
XY rail diameter 20mm
Z rail diameter 16mm
XYZ axis torque NEMA23 76mm stepper 250 OZ/IN (2.2N/CM)
4th and 5th NEMA23 56mm stepper
4th and 5th transmission ratio 1:6
Repeat positioning accuracy 0.01mm
Working precision 0.02mm
Processing speed 0-4000 mm/Min
A-axis B-axis rotation speed 0-180 rpm/min
XY table maximum load 50Kgs
XY+A+B axis table maximum load 15Kgs
Tailgate material Stainless steel
Switching Power Supply Integrated 24V 350W
Spindle power 1500W water-cooled frequency spindle
Spindle converter 1500W
Input Power 220V / 110V power supply
Output Current Drive 4.5A (peak 5A)
Drive motor NEMA23 76mm length stepper motors (two-phase 4 wire)
Net Weight 95Kgs
Gross Weight 125Kgs
Outside packing 80*70*85 (cm)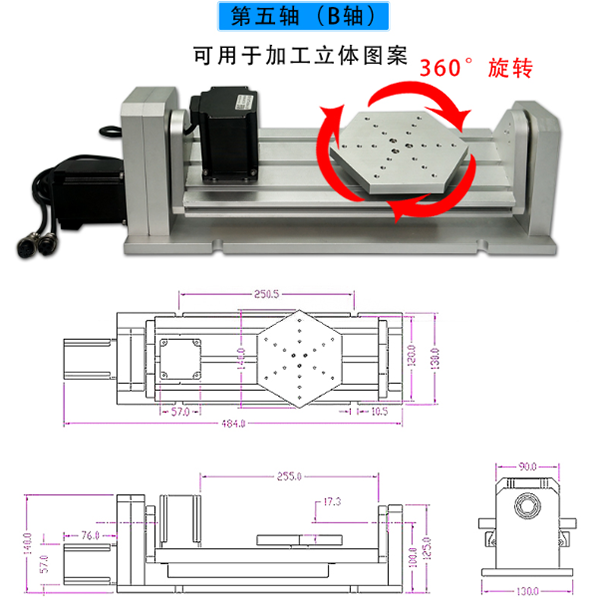 Vertical CNC Router out aluminum dragon pillar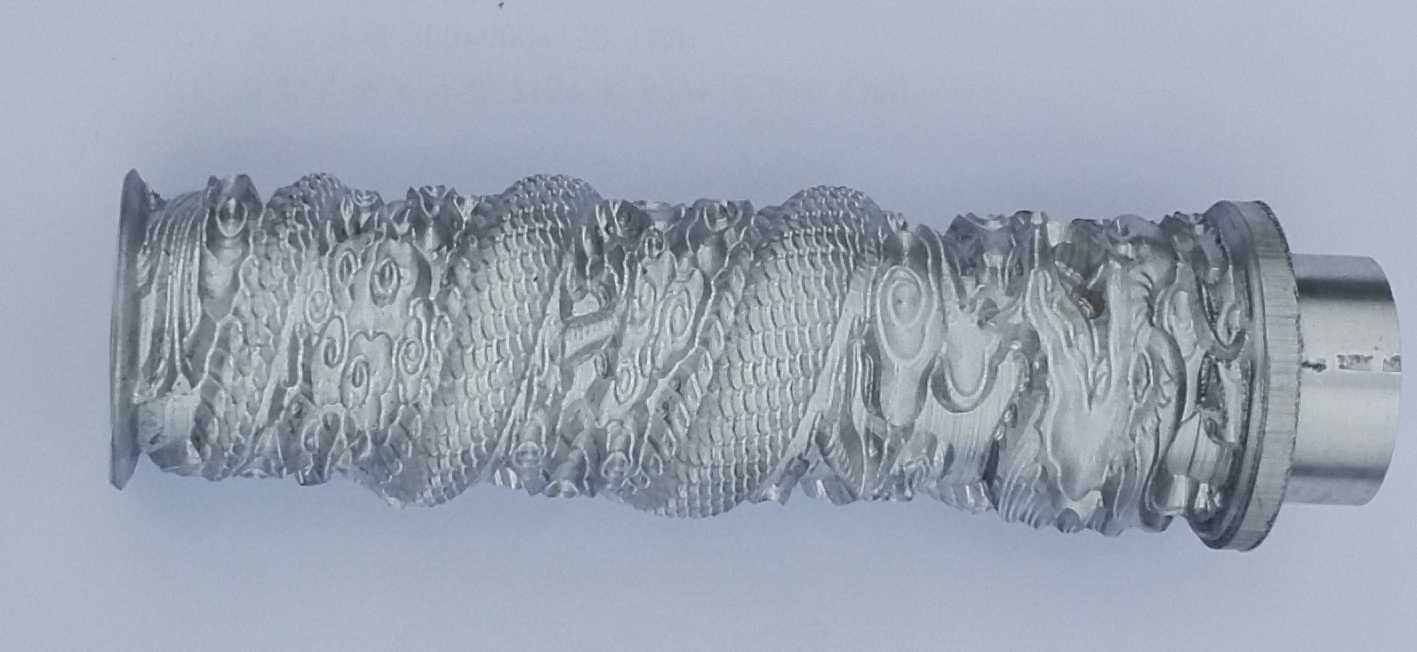 Features:
1. Integrated high-speed microcomputer intelligent control chip, can be equipped with external LCD monitor with hands, automatic detection of computer controlled automatic shield handle motion control functions, can simultaneously track digital recording of computer data and handle mobile data control.
2. The computer keeps track of the path, you can run once the computer processing of the data record-keeping process automatically repeats offline processing operation.
3. Manually move the processing to save recorded track record, manually move the machine data and automatically reprocessed run manually move the path.
4. Manual data input processing path and enter the path to run automatically.
5 You can automatically complete the XYZ axis or Z axis of the knife, without complicated computer software operation control.
6. Max 5A stepper motor drive current, eight-speed adjustable.
7. Up to 16 segments, higher accuracy, run more smoothly.
8. Overload over-current over-temperature protection function, automatic semi-flow control, fully protect your computer and peripherals.
9. Bipolar constant current chopper drive motor low-speed non-creeping phenomenon, noise, non-resonant region.
10. Closed optical isolation, dual-stage signal processing, and fully protect your computers and devices.
Why buy from us:
CE approved.
Video support.
English manual available.
Mach 3 software send with the machine as a CD.
Can engrave material which hardness below 45.
Easy operating:
It can work with 3 axis / 4 axis / 5 axis, just as you want it to.
Integrated high-speed micro computer intelligent control chip.
With external digital LCD monitor and handwheel controller.
The working process can be tracked, recorded in the digital LCD monitor automatically.
Mach3 software.
Built in frequency converter and without controller box.
Higher precision because:
Cross slippery platform design rather than gantry design.
Aluminum base sheet is heavy which can make sure no vibration when work.
With auto-checking function.
1500w water-cooled spindle.
Ball screw 1605 diameter 16mm 5mm pitch.