17HS1001-12K62 Hollow Shaft Stepper Motor
NEMA17 34mm body stepper
Rated Current 1A
The Bore Diameter of the Hollow Shaft: 6.2mm
Shaft Length: 12mm out of the motor face.


New arrival: 17HS3001-25K62, nema17 40mm body stepper, hollow shaft 25mm long
Rated voltage 3.2V
Rated current 1.67A
Resistance per phase 1.9 Ohms+-10%
Inductance per phase 4.5mH+-20%
Holding torque 400mN.m
Detent torque 18mN.m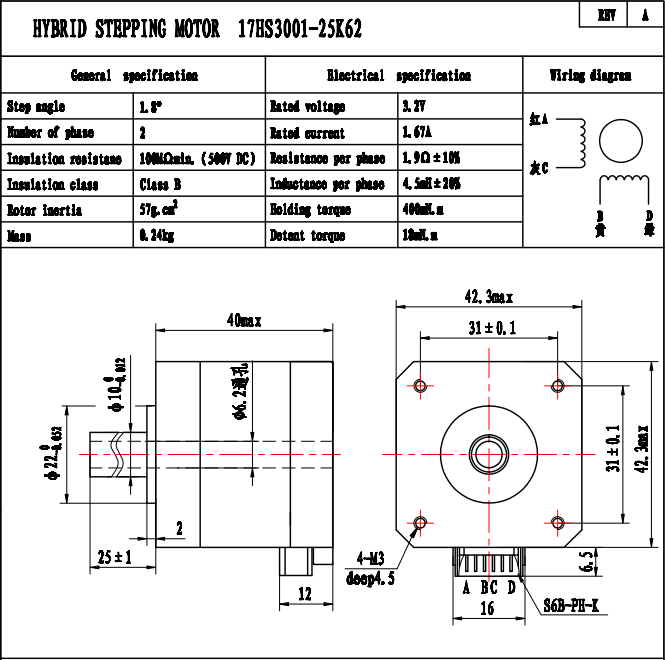 RobotDigg is Hollow Shaft Stepper Motors professional manufacturer in China.
Our Hollow Shaft Stepper Motor product range includes:
NEMA8
NEMA17
Nema23 and Nema34
NEMA17 hollow shaft stepper motors:
BORE(Hollow Shaft) for cables, light or air to be through.
NEMA23 and NEMA34 76mm length Hollow Shaft Stepper Motor.
We have more sizes hollow shaft stepper motor:
8HY0001-K4
8HY0091-7SK
8HY0001-9SK

17HS1003-K6
23HS3426-K1
34HS1401-K15