Rotary Screw Air Compressor Kit
Disposable Razor Assembly Line air compressor option
Power:11kw 15HP, 0.8mpa
Air compressor power supply: 380v/3ph;
Air displacement: 1.7M3/Min;
Weight: 260/290kg;
Air tank: 600 Liters;
Design temperature: 150C;
Refrigerated air dryer: 220v /1ph;
Precision filter: 3pcs
Power:15kw 20HP, 0.8mpa
Air compressor power supply: 380v/3ph;
Air displacement: 2.4M3/Min;
Weight: 310/340kg;
Air tank: 1000 Liters;
Design temperature: 150C;
Refrigerated air dryer: 220v /1ph;
Precision filter: 3pcs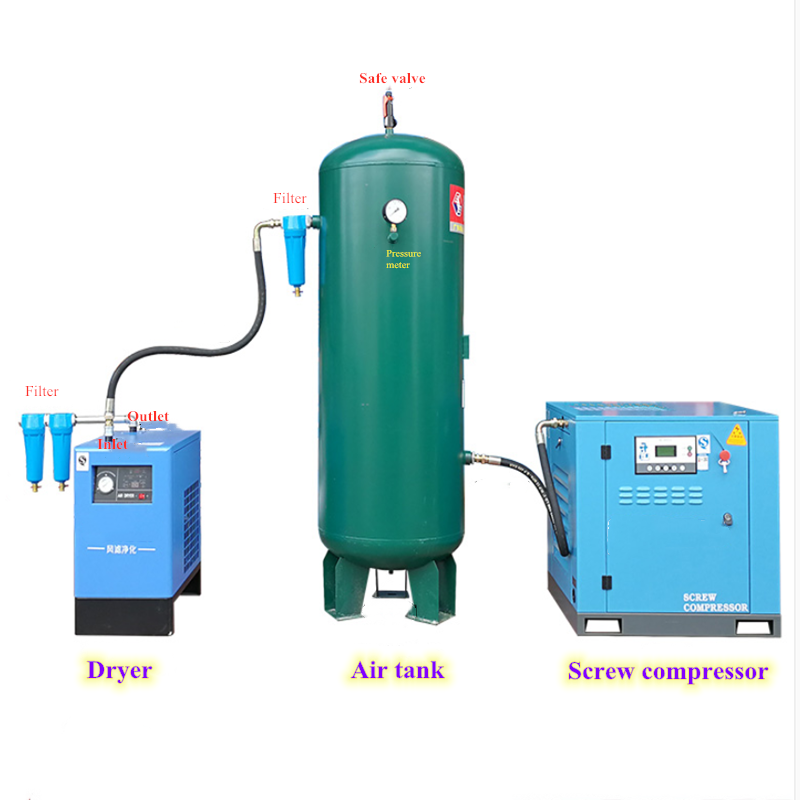 1. How long is the warranty of this screw compressor?
Usually, the whole machine is guaranteed for one year
2. How can it be shipped by Air or by Boat?
The air compressor is a large machine and cannot be transported by FedEx/UPS or DHL. As usual, it will be shipped by Sea. Some mainland countries can be arranged by Train.
3. What voltage can you provide?
The above quotations are all default 380V/3P/50HZ
We provide customized services for different voltages worldwide. E.g:
380V/3P/50HZ
380V/3P/60HZ
220V/3P/60HZ
440V/3P/50HZ
4. Does the air compressor need maintenance?
Yes, the screw air compressors require regular maintenance. The first maintenance can be within 500 hours. Need to change the oil and oil filter. Afterward, the maintenance time interval is 1000-2000 hours.
The complete set of equipment or kit includes:
Screw Air Compressor
Freeze dryer
Gas tank
Compressed air filter
Automatic drain valve
Pipe fittings