3D Printer Bluetooth Module
Name: MKS BT bluetooth module
Shipping list:
MKS-BT 1pcs
N.W.: 0.02Kg
MKS-BT is a board that contains the hardware of the hc06 chipsets. This is a bt adapter that is used on some reprap ramps and MKS Gen with bt connection.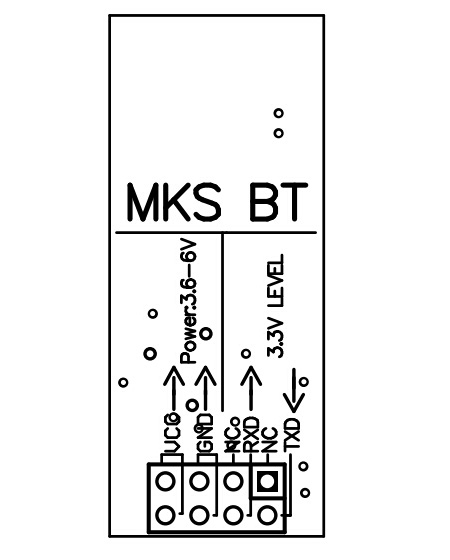 Software Configuration
Modify communication baud rate of Marlin into 9600 : find #define BAUDRATE 250000 in Configuration.h, and change it into #define BAUDRATE 9600.
Test
After plug on electricity, MKS - BT LED will be flashing , MKS - BT is in a state of connecting.
Via laptop or other Bluetooth-enabled devices, find MKS-BT module.
Input pairing code"1234" on device, install Bluetooth serial port.
After finish installation, find bluetooth serial port.
Open Printrun , set port as Bluetooth COM, choose 9600 baud rate, then the connection finishes ; and MKS-BT module LED will stop flashing.
Other Description
1.It is necessary to buy USB-TTL tools if need to change MKS-BT module and other parameters .Tips : HC06_07_09 parameter setting.pdf
2.After change baud rate of MKS-BT module ,modify Marlin firmware, ensure both the same baud rate(baud rate<=115200).
3.Do not burn on board before finish debugging.
4.The distance of MKS-BT is limited , please note.