Open frame linear bearings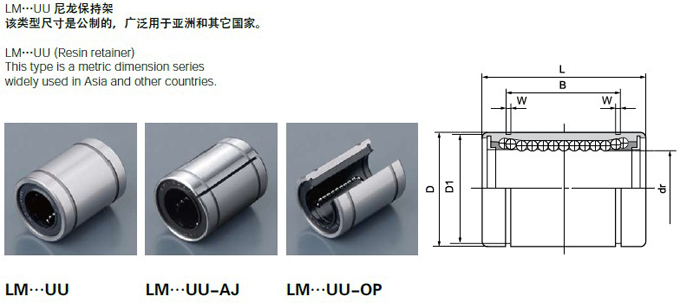 Linear motion is the most basic of all motion. Linear ball bearings provide linear movement in one direction. A roller bearing, carries a load by placing rolling balls or rollers between two bearing rings called races.
These bearings are comprised of an outer ring and several rows of balls retained by cages. Roller bearings are manufactured in two styles: ball slides and roller slides.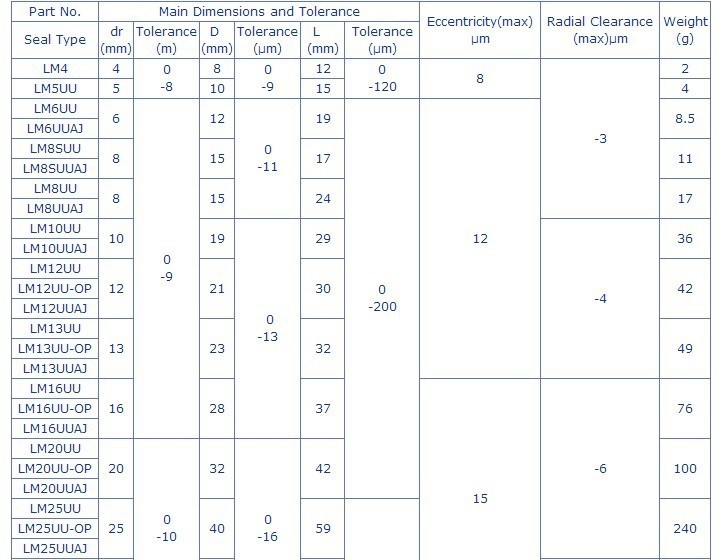 LM8UUOP 8mm(ID)x15mm(OD)x24mm(L)
LM10UUOP 10mm(ID)x19mm(OD)x29mm(L)
LM12UUOP 12mm(ID)x21mm(OD)x30mm(L)
LM16UUOP 16mm(ID)x28mm(OD)x37mm(L)
LM20UUOP 20mm(ID)x32mm(OD)x42mm(L)
LM16UUAJ ID16mm, OD28mm, Length 37mm
LM20UUAJ ID20mm, OD32mm, Length 42mm


LM-UUOP linear bearing can be used in the SBR linear block.