MKS 12864OLED 0.96 inch or 1.3 inches
MKS 12864OLED adopts OLED display with excellent display effect
It is suitable for the printer which carries with small display, mini installed size.
Shipping list:
1pcs*MKS 12864 OLED 0.96 or 1.3
2pcs*cable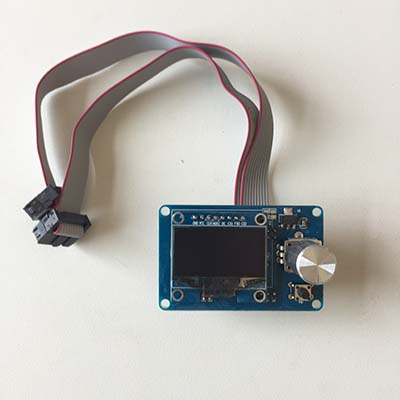 Features
1. Default 1.3 inch OLED display;
2. The interface is as the same as 2004/12864LCD.
3.Support SD card
Notice:
1. Need to adjust Marlin config before use, please refer to the below usage instructions.
2. Repetier firmware may Not support this display, anyway you can try to develop if like.
3. We can provide firmware for testing, but technical support is not available.
4. Each piece will be tested before ship.
Plug EXP1 to EXP1 of mainboard
Plug EXP2 to EXP2 of mainboard
Please follow the connection sequence, especially 3v3 and GND,
wrong connection will burn OLED.
GND: connects to GND of OLED power ground
3V3: VCC of OLED power anode
CLK: CLK of OLED clock
MOSI: MOSI of OLED data
RES: RES of OLED reset
DC: DC of OLED data order option
CS: CS of OLED chip selection
Instruction on Usage
1. If use Arduino IDE, We suggest V1.5.4 updated version.
Then unzip U8glib.rar into libraries directory as following:
Please visit our Github to download firmware.
github.com/makerbase-mks
2. Add following parameters on '' Configuration.h''.
/*---------------MKS OLED patch_1-----------------------*/
// MKS OLED 1.3'' 128x64 FULL GRAPHICS CONTROLLER
#define MKS_OLED13_128x64_FULL_GRAPHICS_CONTROLLER
#if defined (MKS_OLED13_128x64_FULL_GRAPHICS_CONTROLLER)
#define DOGLCD
#define U8GLIB_SH1106
#define REPRAP_DISCOUNT_SMART_CONTROLLER
#define NEWPANEL
#endif
/*---------------MKS OLED patch_1-----------------------*/
3.Add following parameters on '' dogm_lcd_implementation.h''.
/*---------------MKS OLED patch_2-----------------------*/
#elif defined(U8GLIB_SH1106)
U8GLIB_SH1106_128X64 u8g(23, 17, 16, 25); // SW SPI Com: SCK = 23,
MOSI = 17, CS = 16, A0 = 25
/*---------------MKS OLED patch_2-----------------------*/
4. Add following parameters on '' Marlin_main.cpp''.
/*---------------MKS OLED patch_3-----------------------*/
#if defined (MKS_OLED13_128x64_FULL_GRAPHICS_CONTROLLER)
pinMode(LCD_PINS_DC, OUTPUT);
pinMode(LCD_PINS_RST, OUTPUT);
digitalWrite(LCD_PINS_RST , LOW);
delay(1000);
digitalWrite(LCD_PINS_RST , HIGH);
#endif
/*---------------MKS OLED patch_3-----------------------*/
5.Add following parameters on '' pins.h''.
/*---------------MKS OLED patch_4-----------------------*/
#if defined (MKS_OLED13_128x64_FULL_GRAPHICS_CONTROLLER)
#ifdef LCD_PINS_D5
#undef LCD_PINS_D5
#define LCD_PINS_D5 -1
#endif
#ifdef LCD_PINS_D6
#undef LCD_PINS_D6
#define LCD_PINS_D6 -1
#endif
#define LCD_PINS_RST 27
#define LCD_PINS_DC 25
#endif
/*---------------MKS OLED patch_4-----------------------*/