Desktop 3D Printing Filament Extruder
SJ15 and SJ20 are now both new designs that are similar to SJ25 and SJ35 desktop extruders.
If you'd prefer the water cooling on the neck (pellet through the hopper into the barrel and screw), please let us know. Old design SJ20 several units in stock which does Not adopt cooling fan but water cooling design.
Extruder for 1.75mm or 3mm 3D Printing Filament which is quite suitable for experiment and small batch production from thermoplastics PLA, ABS, etc.

Screw Barrel: material 38CrMoAlA, and quenching and nitriding treatment (the inner surface nitriding polishing HV720), shield-shaped two common screw kneading nitriding depth is 0.5-0.7mm, the surface roughness Ra0.4, Linearity of the screw: 0.015 mm, slotted barrel, enhanced cooling water jacket
Screw diameter:20mm
Screw speed:0-20 rev / min
Applicable materials: PLA, ABS, PVC, PE, PP, PA, PC
Please note, the 20 extruders are only suitable for pellets diameter under 4mm
The nozzle or DIE Diameter: 1.75mm/3mm
Speed Control: Regulatable
Highest Temperature:260℃

Screw ratio: An aspect ratio of 10:1, screw effective length 200mm
main motor power:120w AC motor
Main motor speed: Speed controller
Barrel heating: Stainless steel housing heater
heating power: An area of 800w
Dimensions:600*200*350mm
Productivity: 0.1-0.5kg/h
Gearbox: Planetary reducer (ratio based on customer requirements)
SJ20 new design with centrifugal fan for the material input area cooling purpose, this helps to avoid mishandling scald or splash by using the water cooling jack.
Delivery Date: 5-12 working days after payment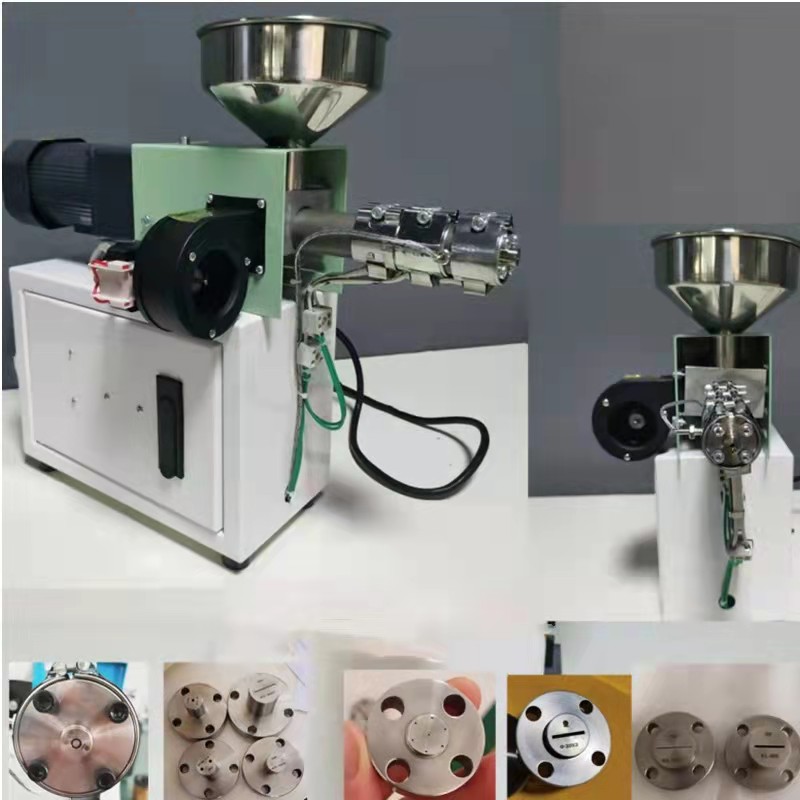 SJ20 Extruder with water cooling jacket
The new design of desktop extruder SJ15, SJ25 and SJ35 adopts a cooling fan to help the pellet does Not get stuck from the hopper to the barrel and screw. SJ20 Extruder keeps the design using a water cooling jacket ring, you can use a water pump to provide cycling water to cool down the conjunction hopper and barrel.
Old version

SJ20-LD28 desktop extruder
Model type: SJ20
Screw diameter: 20mm
Design output: 0.01-2KG/h
Machine size, 1.0*0.2*0.4m
Weight: 45KG
Extrusion center height: 300mm
Extrusion direction: right → left Motor power: 110V/220V single phase 400W Voltage: 220V/ (or customize)
Screw: LD 28:1, Compression 2.8
Heating temperature: room temperature to 350C
Feeding area with a silent cooling device
Screw and barrel material: 38Crmola, Nitrided