400mm or 450mm Gcr15 steel MGN12 rails and carriages for Kossel
400 or 450mm long MGN12 linear rail silver color with 3 long body carriages for Kossel 3D Printer.
Color Black is only for GS_MGN12-1H-400B3 linear rails, the carriage is stainless steel silver with black cap.
NEW UPDATE: 3 pieces Black Anodized MGN12 400mm long linear rails and 3 units 440C Stainless Steel carriages.
Why black anodized linear rail?
1. It's used to anti-rust for longer life span and cheaper price than all Stainless Steel linear guide (rail and carriage).
2. To pair with the Black aluminum profile 2020, 2040 and makes your builds much more high end.
More linear rails in Black anodized please visit
https://www.robotdigg.com/product/1314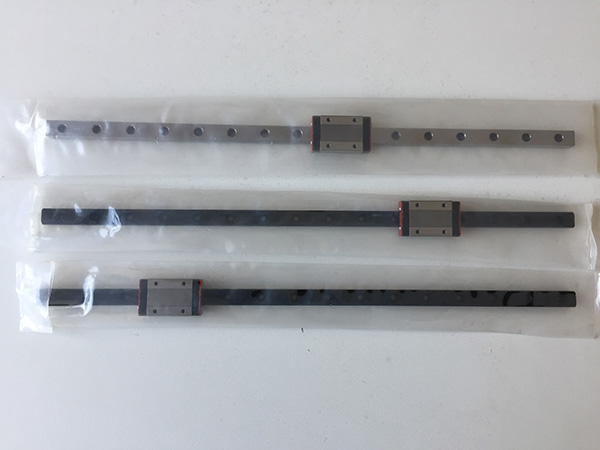 The price 49USD is for one set for Kossel 3D Printer.
Note: for Silver color please buy GS_MGN12-1H-400 in piece instead.

China Made MGN-12H L400 hardened Steel Rail and Carriage Set of 3 Pieces.
It's different from Rostock, Kossel n RostockMax, Kossel Mini used lead rail and carriage for linear motion.

Note: The linear rail is made of hardened high carbon steel, the quality is just for the price.
Quality Stainless Steel Linear Rail price per piece please refer to
http://www.robotdigg.com/product/766
HIWIN origin full stainless steel high quality linear rail, the price will be three times of the listed China Made Linear Rail.
L600 MGN-12H linear rail n carriage, 3pcs per set is available on sale, the price is 69USD/Set
Other sizes of linear rail n carriage like MGN9H 350mm for smaller size kossel are also available.